Sarah Brownstein
Operations Director | Instructs: Fitness and Flying Trapeze
Where, when, and how did your circus journey begin?
My circus journey began with a magazine article on a flight to Southeast Asia. The article talked about how it was now possible to take flying trapeze classes. After relocating three times over eight years, I finally found flying trapeze in Austin, Texas. It was love at first flight. My love of flying has been making important life decisions for me ever since.
What is your circus background?
I initially learned to fly and teach trapeze in Austin, Texas. I have been teaching and performing at Emerald City Trapeze Arts since July 2016. I had my first circus contract in 2020, performing Flying Trapeze and Spanish Web with the Flying Cortes at Shrine Circuses.
What is a fun fact about yourself? 
I begrudgingly admit that I am the 1999 step aerobics champion of the Pichincha region of Ecuador.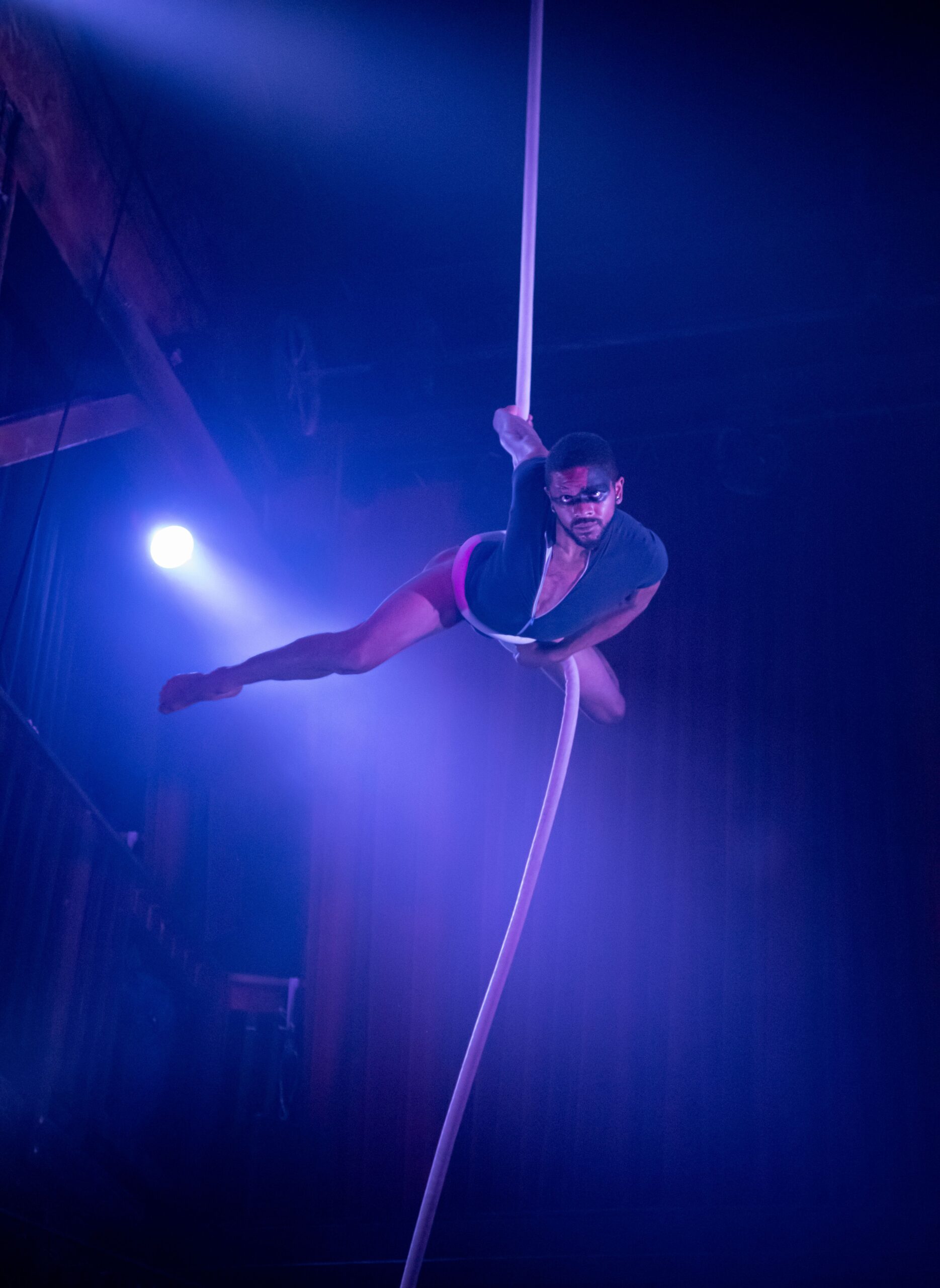 Deon Fox
Aerial Manager | Instructs: Aerial
Where, when, and how did your circus journey begin?
I began my circus journey 2 years ago in this magical school, Emerald City Trapeze Arts. I needed a break from my regular 9-5 job and went online one day to look for some fun things to do. Since I grew up doing gymnastics I was looking for some tumbling classes but couldn't find any in the area for adults, but I found a circus school that had flying trapeze, so I signed up. Four weeks later, I left my job and dove head first into circus. Never thought to turn back.
What is your circus background?
My circus background is limited but I've performed in flying trapeze, trampoline wall and rope acts in seattle. Mainly at Emerald City Trapeze Arts!
What is a fun fact about yourself?
I love crocheting, it's a mindless relaxing activity that is almost the complete opposite of circus.
Jessica Perry
~ Aerial Fitness Manager and Aerial Arts Instructor
Where, when, and how did your circus journey begin?
When I was a kid, my parents lived on a sailboat and I was always seen climbing the mast and swinging from the rigging
What is your circus background?
I started with flying trapeze and aerial acrobatics in Colorado and then performed with Le Petit Cirque in California while I finished school. At 17, I spent a year completing the full-time protrack program at the New England Center of Circus Arts in Vermont. Then, I was accepted to the National Centre for Circus Arts in London where I also performed with Stufish productions in SOHO and CIRCA in Depart. Since then I have been traveling around Europe and Australia, and working with AIDA Cruise Productions, Creactive by Cirque du Soleil, and Emerald City Trapeze Arts.
What is a fun fact about yourself?
I love playing house in IKEA- favorite rainy day activity
Stella Bailey
~ Aerial Arts
I started my adventure into the circus world back in 2019 after taking an intro to aerial silks class, which coincidentally was the same day I fell in love with aerial rope. Coming from a background of ballet and competitive gymnastics, it has been wonderful to transition into something that offers so much freedom to be creatively explorative. Before Emerald City, I had the pleasure of teaching aerial silks and performing rope, silks, duo silks, and aerial hammock with Ethereal Arts Northwest from 2020 to 2022. Becoming an instructor and having the opportunity to share this beautiful art that is so inclusive and available to any and everyone has truly been an honor, and I cannot wait to continue to learn and grow as a part of this new community.
Israel Cavazzi
~ Instructs: Flying Trapeze
Where, when, and how did your circus journey begin?
Started flying in Austin, Texas in 2014. Moved on to other jobs over the years until I had a realization that all I wanted to do was to fly. Changed my career goals and now I'm in north americas best trapeze school.
What is your circus background?
I started off as an instructor and worked all over the world —  Thailand, Dominican Republic, New York, Washington, etc.
What is a fun fact about yourself?
I'm kind of a hitch hiking juggle junky that went circus professional. Nothing about my life would be considered normal. I love it.
Laura Schoop
~ Instructs: Flying Trapeze
Where, when, and how did your circus journey begin?
I was 19, coming out of a decade or so of competitive gymnastics. I knew I wanted to continue pursuing acrobatics, but I wanted to embrace more creativity and artistic movement than I was able to as a gymnast. I was so fortunate to have both an amazing aerial studio and a flying trapeze school in my college town (Canopy Studio and Leap Trapeze in Athens, GA), so I took my first classes and I was hooked!
What is your circus background?
I began as an aerialist, training primarily on fabric for about four years at Canopy Studio, with a bit of flying trapeze on the side. After graduating from college I took off to Vermont and spent 10 months training in NECCA's intensive program majoring in cyr wheel. Post-NECCA, I went straight to teach and perform with Creactive at Club Med Punta Cana, where I began to focus primarily on flying trapeze. Since then I've found myself bouncing between Seattle and Vegas, teaching and performing as I go!
What is a fun fact about yourself?
I once broke both my ankles at the same time during an audition and I still got in.
Kevin Vu
~ Instructs: Flying Trapeze
Where, when, and how did your circus journey begin?
Just a little over 4 years ago in Santa Monica.
What is your circus background?
Kevin started in movement arts just over 4 years ago in 2017 on the gymnastics equipment in Original Muscle Beach in Santa Monica. He went frequently to play on the traveling rings and eventually found community among the other patrons of the space. He met people from all walks of life, among them, cheerleaders, dancers, ninjas, acrobats, and aerialists, the last of which introduced me to silks. His dabbling in silks brought me to TSNY Los Angeles on the Santa Monica Pier, not a stone's throw away from Original Muscle Beach. There, he found and fell in love with flying trapeze. He's since spent time both exploring the sport and learning how best to teach it.
Peeps (Sarah) Piepho
~ Instructs: Flying Trapeze
Where, when, and how did your circus journey begin?
Years ago on a Groupon here at Emerald City! I took one class and was hooked!
What is your circus background?
I was a competitive gymnast growing up, but left that behind me. Then I found Emerald City as a student and my life changed! I had a corporate job for 15 years until one day I decided to run away to the circus. It was a dream to perform for the Flying Pages, the Flying Royals, and Emerald City Trapeze (of course!).
What is a fun fact about yourself? 
I love dark chocolate and getting 8 hours of sleep!
Dana Karash
~ Instructs: Flying Trapeze
Where, when, and how did your circus journey begin?
I was given a flying trapeze class as a birthday present. Even though the rig setup at Jordan's Furniture was absurd, I was instantly hooked.
What is your circus background?
I have a gymnastics background, but wasn't introduced to circus until I was in my 30's. I'm currently training in flying trapeze and standing partner acro, but still keep a day job. Prior to moving to Seattle in 2018, most of my training was through TSNY NY & DC. I've performed for a number of events and fundraisers in the DC area. I was proud to be part of Sweet Spot's production of Smoky Mirrors – an aerial performance that explored expectations of gender and sexual identity. A huge DC treat was performing for the Halloween festivities at Obama's White House – THREE times!!
What is a fun fact about yourself?
I've used more than 14,000 yards of yarn in knitting projects!
Beau Elliott
~ Instructs: Pole
Where, when, and how did your circus journey begin?
I started circus in 2012 after meeting a few slackliners while climbing at my local crag. They introduced me to a group of circus climbers and I started learning how to rig and perform on silks. After about 1-2 years of delving into several different circus disciplines, I became friends with a few pole dancers who convinced me to start training. I started training with a friend at a local bar and after 3 months he opened a pole studio. He asked me to teach and that started my teaching career.
What is your circus background?
I've performed all over Hawaii and California while working as a contract aerialist. Mostly for silks and Lyra but tampered down once I started competing professional pole.
What is a fun fact about yourself?
I'm actually a terrible dancer but become quite graceful off the floor.
Terry Crane
~ Instructor: Aerial Rope
Terry Crane has been practicing, performing, and living circus for two decades. He holds degrees from Oberlin College and the National Circus School of Montreal. He performs in the big top, on the stage, and in the street. He has performed in dozens of countries and for numerous
companies, including Teatro Zinzanni, the UMO ensemble, Flynn Creek Circus, Circus Flora, and Circus Monti. His work is influenced by his roots
in contact improvisation, capoeira, dance, personal clown and wild nature. As a mentor, Terry delights in sharing his love of vertical rope technique,
circus creation, and collaboration. He performs on vertical rope, Cyr wheel, slackrope, and trapeze. Terry is delighted to be teaching and sharing circus magic at Emerald City Trapeze
Amanda Thornton
~ Instructor: Aerial Arts
I have been a circus artist for over a decade and performing aerial arts since 2012. I discovered aerial when I was a wee college student studying the ways of theatre arts and storytelling. I desired deeply to be the verity act among my peers, and I was fortunate enough to find a little circus collective in my college town of Bellingham Washington. This story ends the usual way, with me running off with the circus, but not before moving to the great emerald city just to the south. 
In Seattle, I developed a specialty in duo aerial silk with my partner. I have had the opportunity to work and play in the spiegeltent at Teatro Zinzanni, teach people from all walks of life at SANCA, Arcadia, Teatro Zinzanni, and Umo on Vashon Island. I have performed in many different venues around the greater Seattle area, and some of my favorite performing experiences include the Living Computer Museum, The Museum of Flight, Cabarets at Teatro Zinzanni, and my wedding where I got to marry (and perform with) my best friend and aerial partner!
When I am not flying in the air or standing on top of another person, I am practicing tricks and skills underwater as a mermaid! 
For me, the circus has always been about collaborating, which is one reason duo aerial speaks so deeply to me, but also why I adore teaching. I believe together we can create amazing feats and I love helping others see they are capable of impossible-seeming things!
Zoe Garland
~ Instructor: Cyr Wheel
About Zoe Garland (She/They)
Zoe got a start in the circus in 2014, when Zoe met some acrobats on a beach in Hawaii who welcomed them into their incredible community of circus artists. A competitive swimmer growing up, Zoe took to aerial arts quickly. Zoe first started learning silks and standing acrobatics but began shifting their focus entirely to Cyr Wheel when she had to move away from their original circus community. As she traveled more, Zoe began to find other Cyr artists all over the world and practiced alongside them. Ultimately, Zoe began performing across the country. Emerald City Trapeze Arts is lucky to have Zoe teaching Cyr Wheel and greeting students at the front desk!
Zahara "Zee" Thomas
~ Instructor: Aerial
Zee discovered her passion for circus nearly 8 years ago when she began taking silks classes and performing aerial acts in shows at Louisiana State University. Originally from the Los Angeles area, she grew up as a competitive gymnast and cheerleader. She has a strong background in movement and loves to teach and perform. After graduating from LSU in 2016 with a degree in English, she decided to run away to Florida to pursue a career in circus. Since then, she's spent her time teaching and performing silks, lyra, hammock, double trapeze, and flying trapeze in and around Florida. This is her first time being in the Seattle area, and she's really looking forward to training and working with everyone here at Emerald City!
Loki White
~ Cyr Wheel
Where, when, and how did your circus journey begin?
My circus journey began at Emerald City Trapeze with Trapeze. I loved it, but I decided to give all the other classes except Cyr Wheel a try. I thought each class was amazing, and I wanted to continue; however, I still didn't want to try Cyr Wheel. When I finally tried it, I didn't like it. Yet after three years of intensive Cyr Wheel training, I LOVE it more than anything!
What is your circus background?
I struggled more with cyr wheel than with any other apparatus and it took me way longer than other students to learn anything. It was one of the most frustrating things that I've ever done, but when I finally did it, it was one of the most rewarding and fun! I took every Cyr Wheel class offered and spent even more time in open gym. I've spent the last part of my training fighting not to backseat teach students coming through class because I know the difficulties. I'm very excited to finally be able to use the hard lessons from my training to help others learn.
What is a fun fact about yourself?
Most people don't want to get old but I'm excited about it! I get stronger each year and someday if I get enough wrinkles people will stop thinking I'm a teenager.
~ Trampoline
I started gymnastics (Trampoline and Tumbling) in 2006 at 15 years old. I made it to Nationals every year and placed 1st on Level 10 Double Mini and 2nd on Level 10 Trampoline. After moving to Junior Elite Trampoline, I placed 2nd at Nationals. I eventually made it to Senior Elite on both Double Mini and Trampoline. After receiving a wide variety of coaching from World and Olympic class coaches and competing up to an international level, it was time to join the circus, as I had always dreamed of. I competed in Trampoline for over 10 years and coached during a majority of those years. It is an excellent foundation for motion and one of the best developers of proprioception. Trampoline has given me the bodily awareness to understand what I'm doing at all points in the air which translates very well to most circus apparatuses. I love teaching Trampoline because of its usefulness in breaking down motion and seeing people learn to understand their bodies.
~ Aerial
Senora "Siren" Loop (she/they) began her aerial journey as a student in January of 2013 in Bloomington, Indiana, where she then went on to teach, perform, and manage the aerial department at multiple studios in her hometown. Senora has taught and performed from coast to coast, first debuting her skills as a performer in 2014. Since then, she has stunned in several performances at a number of private and public events. Senora is a compassionate, energetic, trauma-informed coach and performer with a background in therapeutic exploration as well as ample experience working with children and animals. She most passionately believes in having students ponder and reevaluate the concept of possible with the hope that aerial training will teach students to defy pessimistic and "grounded" mentalities, while strongly advocating for the use of fitness and aerial training to improve both physical and mental well-being.
Gabriella Robinson
~ Front Desk
Gabriella (Gabby) always found herself hypnotized at local circus shows and started her circus journey at the ripe age of 17 in Santa Cruz California. She specialises in Silks, Hammock and Chains, and works at ETCA as desk administrator. When not behind a camera or studying environmentalism, Gabby can be found at Gasworks park rigging and performing. She hopes to continue her love for aerial throughout her life, and proudly claims she will join the circus as her backup plan.
---
We are proud to provide our schools with instructors and staff from all over the globe, with diverse backgrounds, talents, and teaching styles. If you're interested in joining our team, please contact our team at: [email protected]