This Could Be the Day You Fly!
Whether it's your very first time on a trapeze bar or you've been practicing your aerial skills for decades, or  we offer a broad spectrum of classes available to all skill levels.  The thrill of hopping off a platform 30 feet in the air, the challenge of balancing in your first handstand, the satisfaction that comes from completing that last pull-up you thought impossible… all can be realized within the playground of Emerald City Trapeze Arts.
Taught by circus professionals, our classes are designed to accommodate people from every type of athletic background (or none!).  Our confident and capable instructors will supportively encourage you to achieve your personal goals, no matter how lofty! We're ready to walk with you into the wild and wonderful world of the circus… sign up today and begin the journey!
Book Classes Online!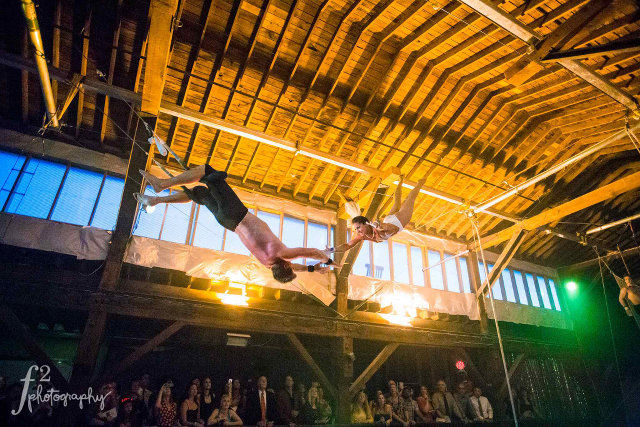 Available Classes at Emerald City Trapeze:
Please scroll down the page for specific class information!
Frequency Cards & Class Packages:
If you love circus arts as much as we do (and that's a lot!), you may find yourself interested in one of our Frequency Cards. We offer Class Cards in 5, 10 and 20-punches for our Flying Trapeze, Aerial, Circus, and Fitness Classes. Get yours today to save a bundle on classes, and maximize your fun!
*Note: Frequency cards are for individual use and cannot be shared between students*
Update:
Existing Frequent Aerial Credits will work for any non-fly class.
Any Existing Fly Credit will pay for any fly class!
Frequent Flyer Cards – (Valid for any 2-hour flying trapeze class, 24-hour cancellation policy in effect):
5-class card – $261
10-class card – $419
20-class card – $738
Frequent Circus Card – (Valid for any $25 class, 24-hour cancellation policy in effect):
5-class card – $122
10-class card – $233
20-class card – $404
Class Cancellation Policy:
Please note: For the Aerial Session (4-class courses) cancelation policy, please see the Aerial Session section for the full details. 
All classes at Emerald City Trapeze are non-refundable; however, you may reschedule your class free of charge as long as you give us more than 48 hours notice. There is a rescheduling fee of $20 for Flying Trapeze, $10 for Aerial Arts, and $25 for Date Night if notice is provided 24-48 hours prior to the start of class. We do not allow a class to be rescheduled with less than 24 hours notice. To reschedule, or if you have additional questions regarding our policy, please contact our front desk at (206) 906-9442. Groups reserving a specialty or private class are required to provide 48 hours' notice. Failure to provide sufficient notice causes the participant to be liable for 100% of the cost of the scheduled appointment (we will charge your credit card or mark all relevant coupons as "redeemed").
Class Minimums:
Emerald City Trapeze requires a minimum of 2 students to run a Flying Trapeze class and 2 students to run an Aerial Class. If we do not have enough students signed up to run a class, we will give 24 hours' notice to any students already registered, and we will do our very best to re-schedule them into a running class.
"Once you have tasted flight, you will forever walk the earth with your eyes turned skyward, for there you have been, and there you will always long to return."

Leonardo da Vinci
---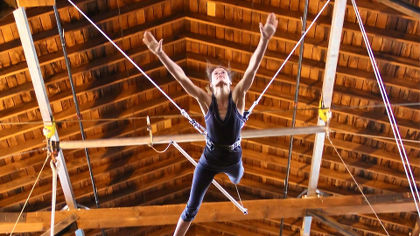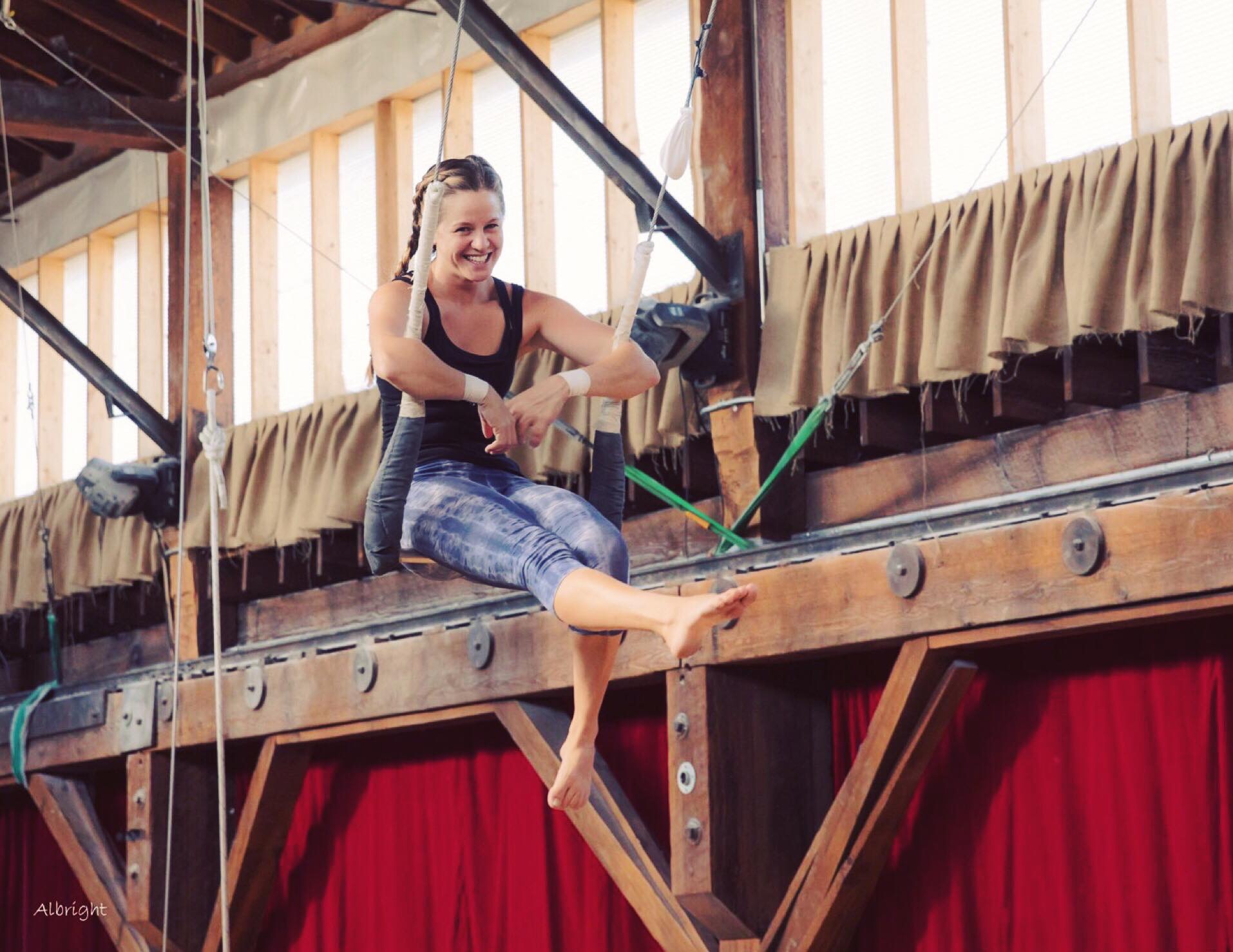 High Flying Trapeze
From absolute beginner to aspiring circus professional, we offer Flying Trapeze classes for all levels. First-time students are welcomed into the fold and inducted into the world of flying trapeze through our Ground School, a 15-20 minute introduction to the rig, take-off techniques, flight, their first trick, and their dismount into the net. During the remaining class time, students will take turns flying through the air on our full-sized trapeze rig. As students advance and gain confidence (which is generally by the end of their first class), we introduce new tricks that develop spatial awareness. Returning students build their repertoire of tricks, learn to properly and powerfully swing, work 'in hands' with the catcher and return back to the bar, eventually remounting the board.
Prerequisites: We encourage students of all athletic (or not!) backgrounds and abilities to give it a try. It requires much less strength and flexibility than you can imagine to have a fun and successful first class! Students must be 16 years or older and under 250 pounds to fly. Beginners are welcome to all classes, excluding "Frequent Flyer" and "Tricks & Locks" classes.
COVID: Please note that class times and sizes along with certain activities have been reduced or limited due to Covid-19.
Book a Flying Trapeze Class
---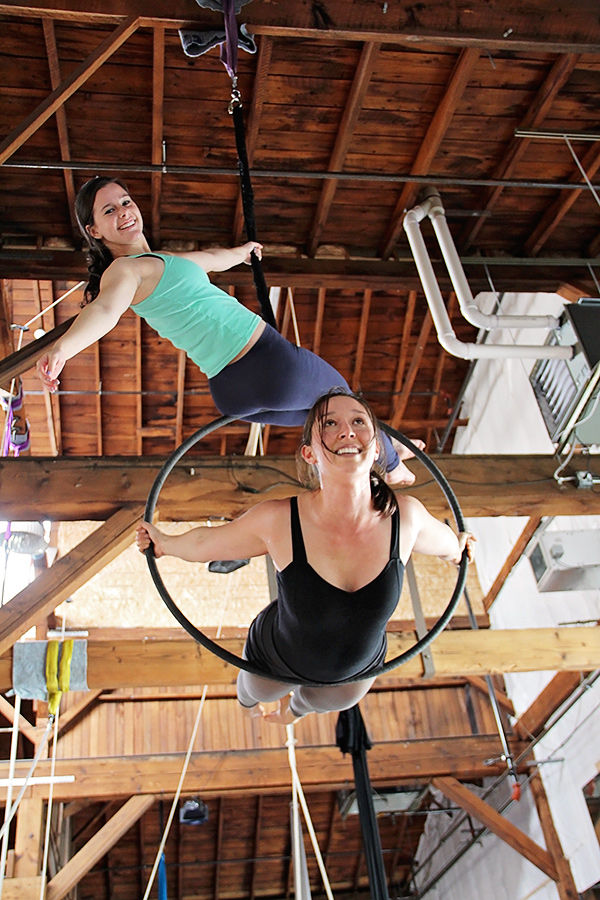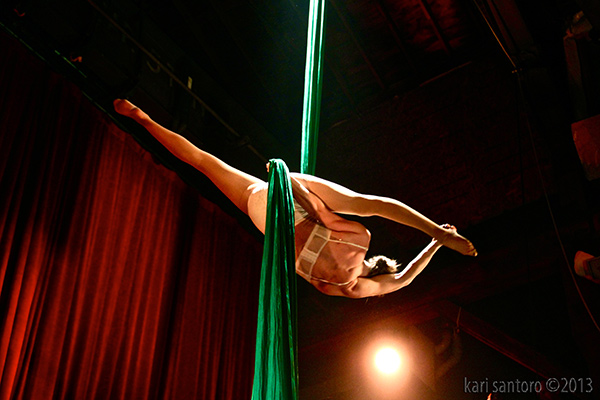 Aerial Arts
Find your center of gravity and learn to gracefully perform on an Aerial apparatus! From Silks to Hoop and Aerial Rope, we've got many options for you to try something new, or master your existing skills.
All Aerial classes are $25/class.
Book an Aerial Class or Session!
Aerial Silks Classes
Aerial Hoop Classes
Aerial Rope Classes
Additional Aerial Classes
---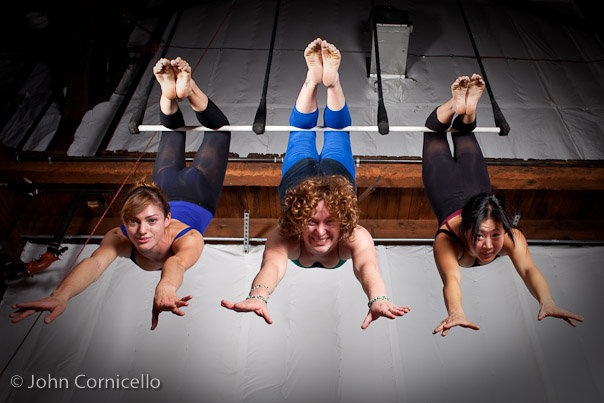 Circus Fit
We offer a wide variety of Shakedown classes to help get your body into the best shape possible.
Book a Circus Fitness Class
---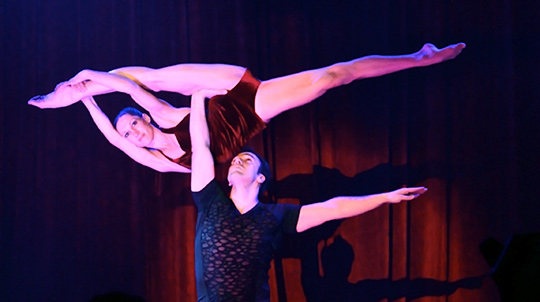 Acrobatics
Acrobatics have been around for centuries; the word is derived from the Greek words akron and bainein (which translate literally to "walking on tiptoe"). Today, acrobatics can take many forms, including juggling, tightrope, and contortion.
Book an Acrobatic or Circus Class