Beginner's Flying Trapeze and Aerial Classes
Flying Trapeze for Beginners
Emerald City Trapeze Arts offers an incredible experience for first time flying trapeze students! No experience is necessary, and it's fun for students of all ages!
Founded by the incredible Jules Leotard, Flying Trapeze brings together artistry, athleticism, and a whimsical sense of circus. Jules Leotard discovered Flying Trapeze while training at his father's gymnasium. He strung up a cord and bar above the pool and practiced his newfound tricks.
Since the days of flying over a swimming pool, Flying Trapeze has evolved into one of the most famous circus acts. Performed by nearly every major circus production company, it reigns as one of the most impressive and awe inspiring acts.
Many people believe that learning flying trapeze is difficult and requires a tremendous amount of strength. Emerald City Trapeze makes learning trapeze easy and fun! We have had everyone from 6 to 89 years old take a swing on the flying trapeze. It requires much less strength, flexibility, and coordination than you might think! All students will be in a safety harness and assisted at all times by our incredible staff.
Flying Trapeze Classes for Beginners
Introductory Class
Are you ready to take the leap? Our introductory flying trapeze class will take you through 15-20 minutes of ground school where you will become familiar with the harness, calls, and body positions. From there, your instructor will guide you through your first knee hang on our flying trapeze rig. After your first swing, you will perfect your positioning in order to achieve a coveted cowbell! By the end of the class, you may have the chance to try for a catch with one of our professional catchers!
Pre-requisites:
16 years or older; under 250lbs
Beginners are welcome to all classes, excluding "Frequent Flyer" and "Tricks & Locks" classes.
Whether you are signing up for this package or giving it as a gift, the 1-2-3 Beginner's Flying Trapeze Package is perfect for anyone who is interested in getting on the rig for the very first time! The class will focus on technique, safety, form, and fun! By the end of three classes, you will feel confident flying through the air, performing tricks, and being caught by one of our professional catchers.
Rate: $150 
Save $35 by booking this special introductory package!
Package includes three 2-hour lessons.
Pre-requisites:
No experience necessary
16 years or older; under 250lbs
Beginners are welcome to all classes, excluding "Frequent Flyer" and "Tricks & Locks" classes.
---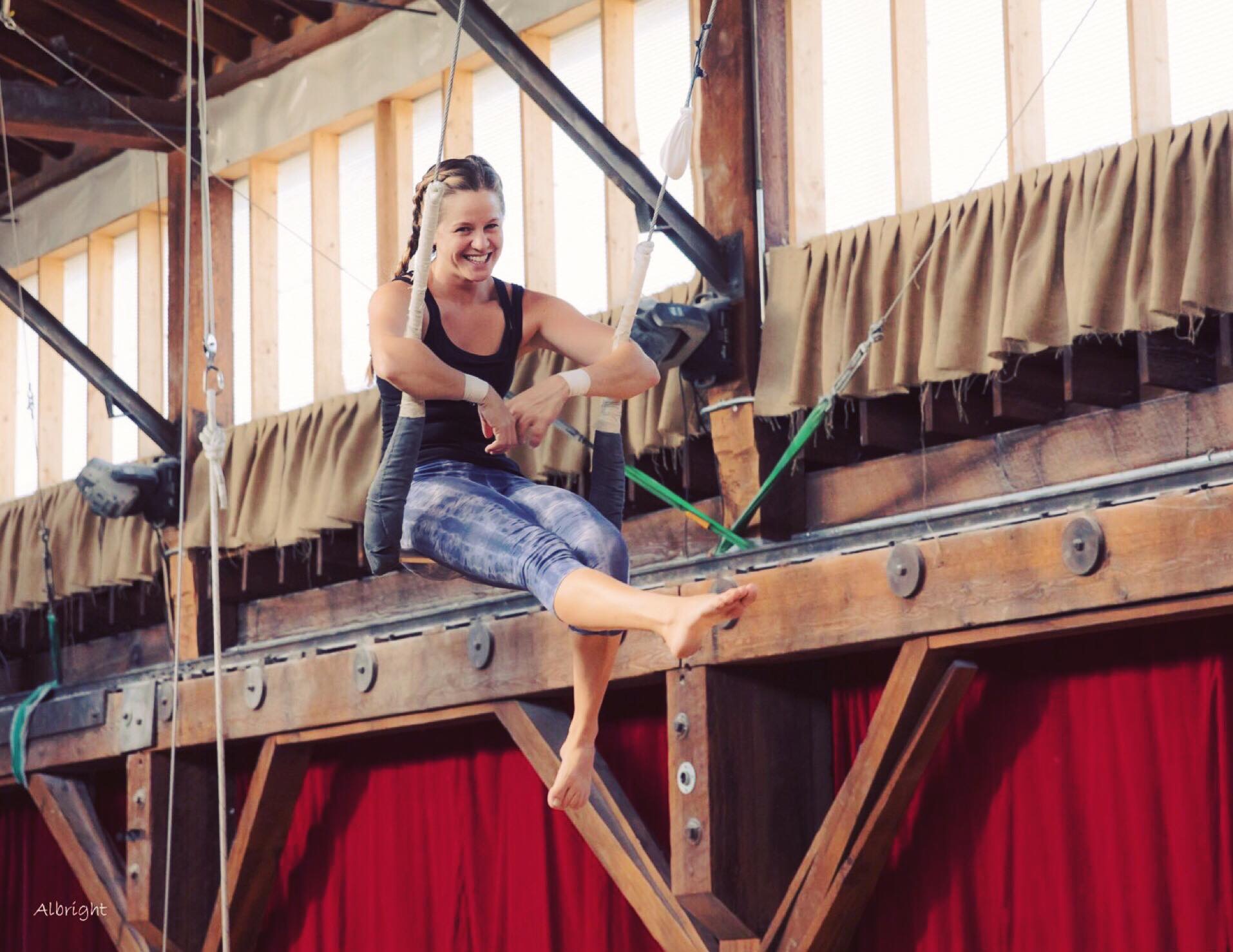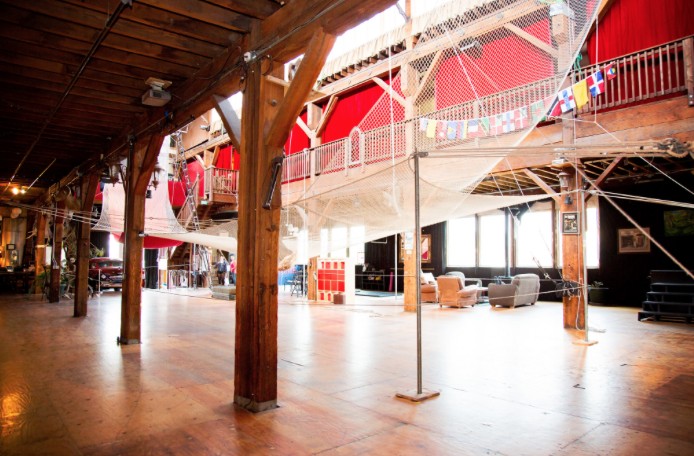 THIS COULD BE THE DAY YOU FLY!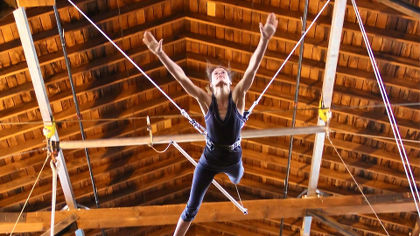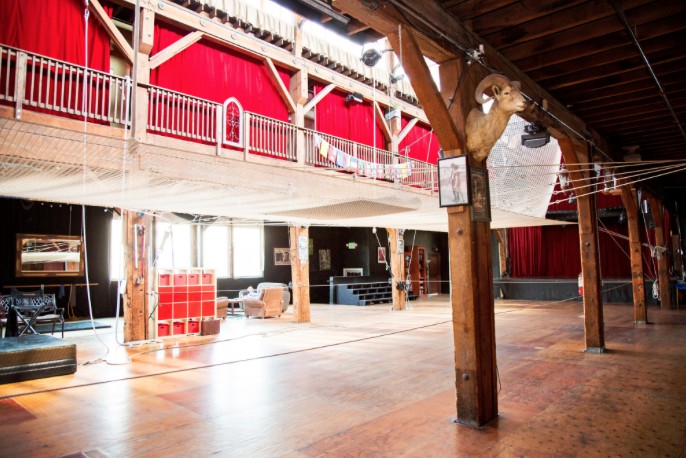 Aerial for Beginners
Have you been dreaming of Aerial Silks, Lyra, and Rope? Whether you have recently seen a show at Emerald City Trapeze or Cirque du Soleil, the Aerial Arts play a magnificent role in today's circus world. This romantic form of artistry employs strength, flexibility, and creativity. Emerald City Trapeze Arts offers an incredible experience for first time students! No experience is necessary!
Aerial Silks:
Acrobatics performed using Aerial Silks. Students will learn to climb, pose, and perform tricks using Aerial Silks (also known as tissue).
Aerial Hoop:
Acrobatics performed in the air using a hoop. Students will be guided through the basics of learning how to use this spectacular apparatus.
Aerial Rope: 
Learn the powerhouse artistry of Aerial Rope. Students will learn to use their body to climb, articulate, and perform tricks.
Aerial Classes for Beginners
---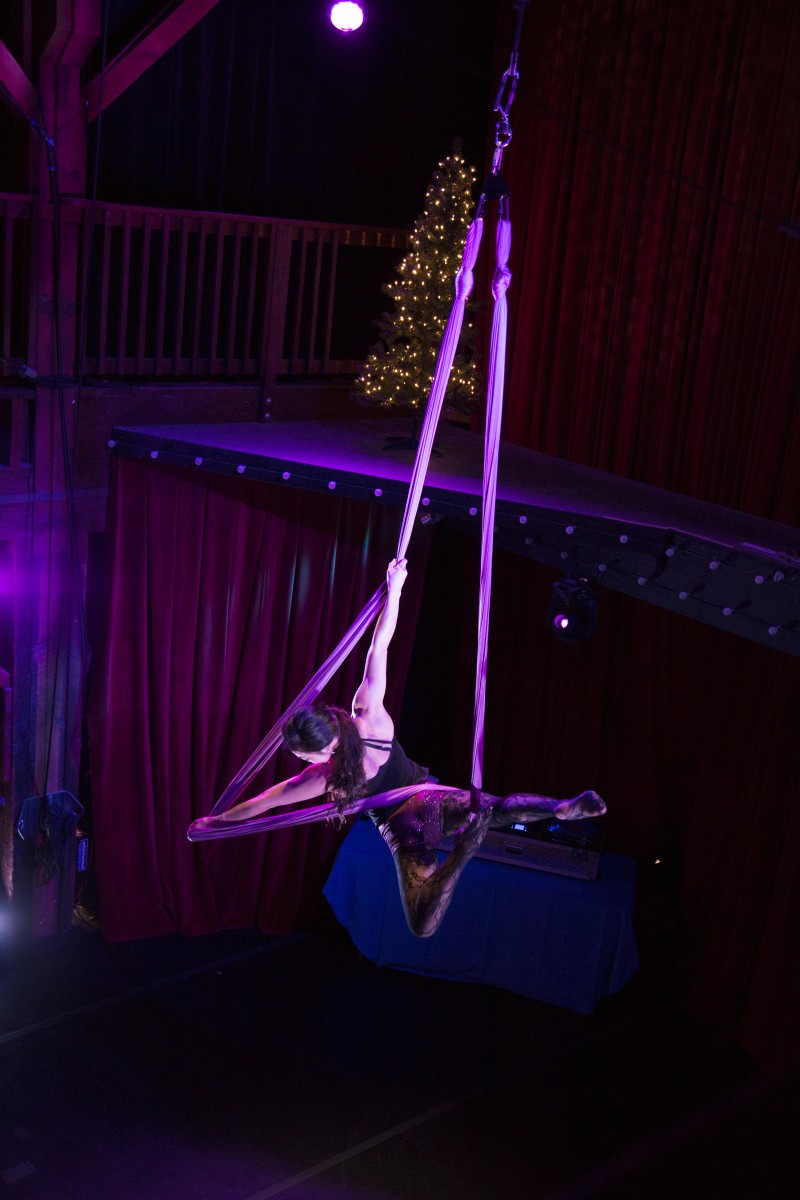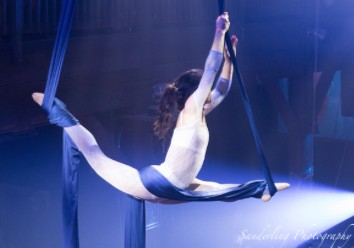 Aerial Silks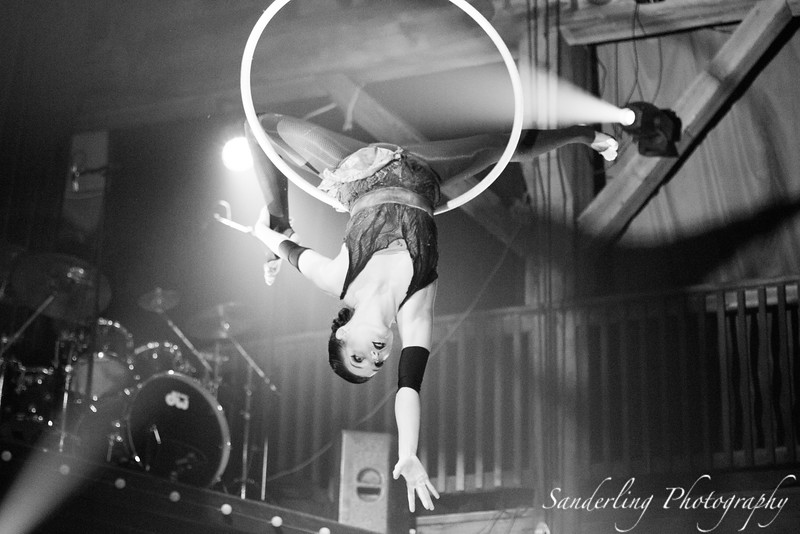 Aerial Hoop
 Aerial Hoop
Circus for Beginners
Acrobatics have been around for centuries; the word is derived from the Greek words akron and bainein (which translate literally to "walking on tiptoe"). Today, acrobatics can take many forms, including juggling, tightrope, tumbling and contortion.
Beginner Classes
Traditional Acrobatics:
Dive into the world of acrobatics with Traditional Acrobatics. You will learn cartwheels, round-offs, dive rolls, and hand springs in this invigorating class! As you begin your journey, you will learn to take movement to the next level by incorporating proper Acrobatic technique and language into your skill set. Once you dip your toes into Acrobatics, you will find the whole circus world opens up!
Cyr Wheel:
The Cyr Wheel has existed as a gymnastic sport since 1925, recently growing in popularity due to its exposure as a circus apparatus.  A smooth learning curve allows students to progress at their own pace as you learn to understand the movement of the Cyr Wheel inside and out.  Students will learn to balance on a single pointed spin and eventually learn to maintain speed and master new tricks.
Beginner Trampoline:
Calling all new (or 'new-ish') bouncers! Jump-start your skills with this comprehensive beginner trampoline class. Class begins with a gentle warm-up and bouncers will move on to drills, skills and thrills. With a focus on form and fun, new bouncers will learn how to safely jump on the Euro-trampoline and perform basic tricks like the Seat Drop, the Swivel Hip, Back Drop, Front Drop, Cradles and Cruise. Get ready to bounce your way to better balance, a stronger core and a ton of fun! Socks must be worn on the Euro-trampoline at all times.
Prerequisite: Must be 6 years or older
---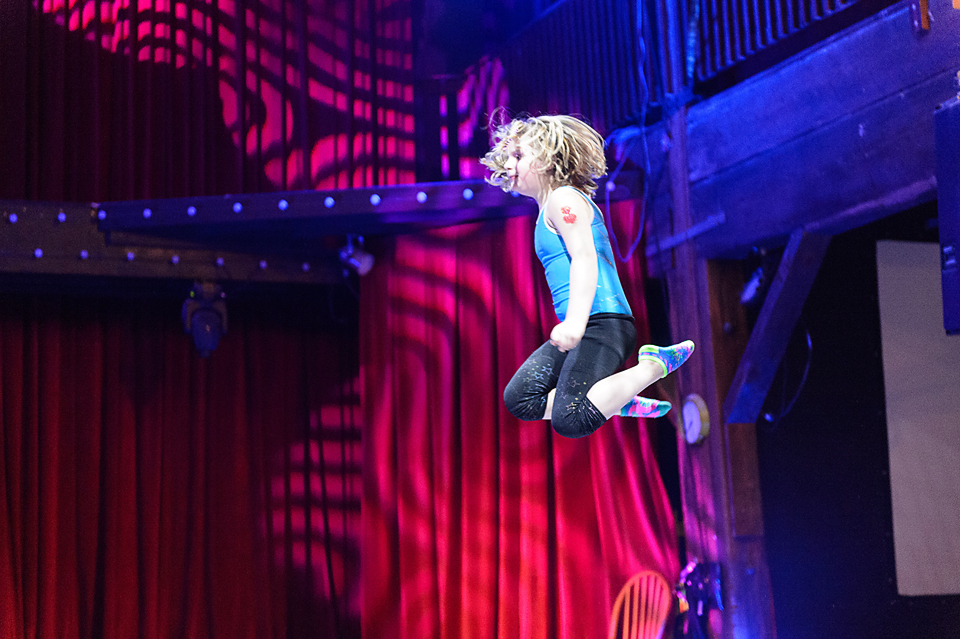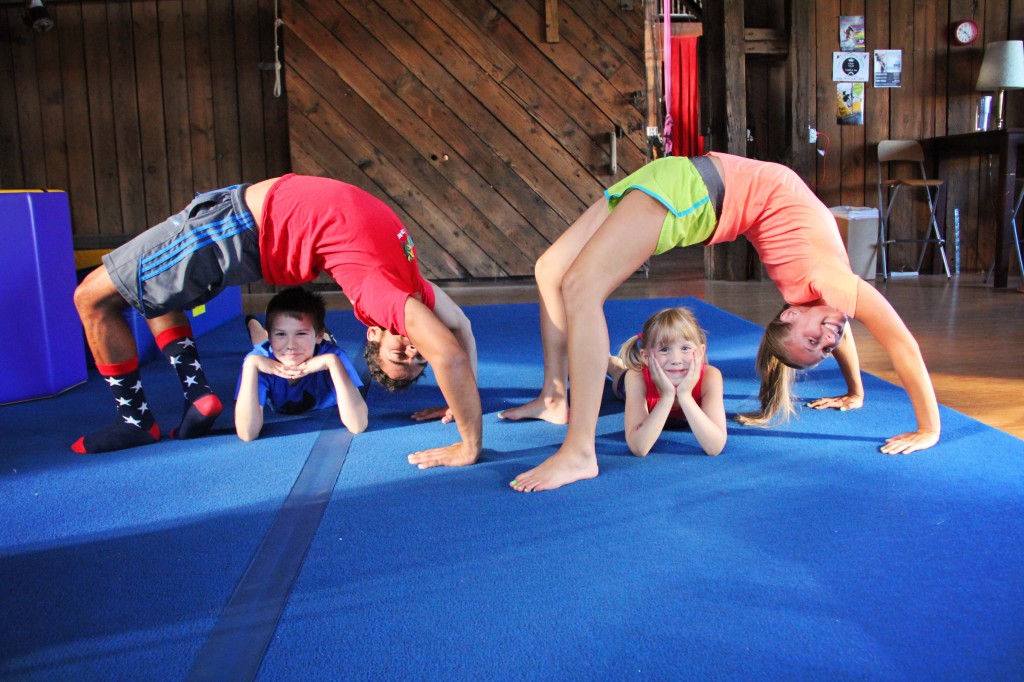 Pole for Beginners
You will learn how to how to fluidly transition in between movements, execute a set of beginner pole moves with grace, and prepare your body with conditioning exercises that will help you progress to more advanced tricks quickly. Prepare to have fun, sweat, and challenge yourself.
Beginner Classes
Intro to Static Pole:
Level 1 is for students new to pole, students returning after some time away, or students who wish to review the basics of static and spinning pole. Classes focus on safely engaging the upper body and core, putting together simple tricks and transitions on the floor and around the pole, and learning the basics of climbing and pole sits. Prerequisites: none.
Pre-reqs:
Must be 18 years or older
Rate: $25
What to wear: Students are required to remove any body jewelry for their own safety as well as prevent damage to the poles. Skin contact with the pole is necessary in order to provide grip and hold for pole moves. We recommend clothing that provides the best opportunity for contact with the pole; shorts and a tank top generally work great for this. Also, it's best to refrain from using lotion and/or oils on days that you intend to take a pole class.
---