This Could Be the Day You Fly!
Whether it's your very first time on a trapeze bar or you've been practicing your aerial skills for decades, or  we offer a broad spectrum of classes available to all skill levels.  The thrill of hopping off a platform 30 feet in the air, the challenge of balancing in your first handstand, the satisfaction that comes from completing that last pull-up you thought impossible… all can be realized within the playground of Emerald City Trapeze Arts.
Taught by circus professionals, our classes are designed to accommodate people from every type of athletic background (or none!).  Our confident and capable instructors will supportively encourage you to achieve your personal goals, no matter how lofty! We're ready to walk with you into the wild and wonderful world of the circus… sign up today and begin the journey!
Classes may end early at the instructor's discretion as fatigue increases risk.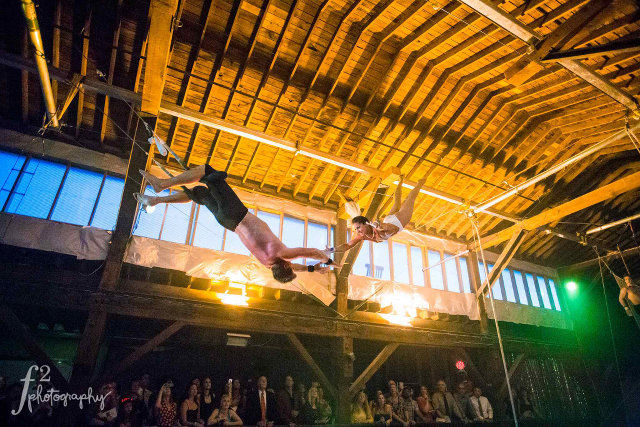 Available Classes at Emerald City Trapeze:
Please scroll down the page for specific class information!
Book Classes Online!
Now Booking 2018 Summer Camps! 
Early Bird Rate Through April 1, 2018: All Level $385 | Advanced $475
Rates will increase on April 1, 2018! 
Did your child love summer camp? Are you planning for next year? We are starting our booking process early this year! Each camp is 5 consecutive days of circus fun! Last year, our all level camps sold out by March. Book early to reserve the best rate and first choice of camp session.
If you want to reserve a spot for your child in our July and August 2018 Circus Summer Camps, please contact our front desk at: (206) 906-9442
Class Minimums:
Emerald City Trapeze requires a minimum of 3 students to run a Flying Trapeze class and 2 students to run an Aerial Class. If we do not have enough students signed up to run a class, we will give 24 hours' notice to any students already registered, and we will do our very best to re-schedule them into a running class.
Class Cancellation Policy:
All classes at Emerald City Trapeze are non-refundable; however, you may reschedule your class as long as you give us at least 24 hours' notice. There is a rescheduling fee of $20 for Flying Trapeze and $10 for Aerial Arts if notice is provided less than 24 hours prior to the start of class. To reschedule, or if you have additional questions regarding our policy, please contact our front desk at (206) 906-9442.
Event and Workshop Calendars:
Frequency Cards & Class Packages:
If you love circus arts as much as we do (and that's a lot!), you may find yourself interested in one of our Frequency Cards. We offer Class Cards in 5, 10 and 20-punches for our Flying Trapeze Classes, Aerial Classes, and Circus Classes. Get yours today to save a bundle on classes, and maximize your fun!
Frequent Flyer Cards – (Valid for any 2-hour flying trapeze class, 24-hour cancellation policy in effect):
5-class card – $275
10-class card – $465
20-class card – $820
Just The Swing Cards & Tricks and Locks– (Valid for the 1-hour just the Swing Class or Tricks and Locks, 24-hour cancellation policy in effect):
Frequent Aerial Cards – (Valid for any aerial class $30 or less, 24-hour cancellation policy in effect):
5-class card – $140
10-class card – $259
20-class card – $449
Frequent Circus Card – (Valid for any $25 class, such as pole dance, tumbling, trampoline, etc., 24-hour cancellation policy in effect):
5-class card – $115
10-class card – $220
20-class card – $420
Kids' Acrobatics Card: (Valid for youth acrobatic classes, 24-hour cancellation policy in effect):
8-pack available for $168.00
12-pack available for $216.00
Flying Trapeze: Family Pack
8-pack available for $440
12-pack available for $640
20-pack available for $968
"Once you have tasted flight, you will forever walk the earth with your eyes turned skyward, for there you have been, and there you will always long to return."

Leonardo da Vinci
---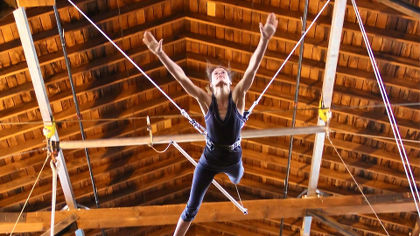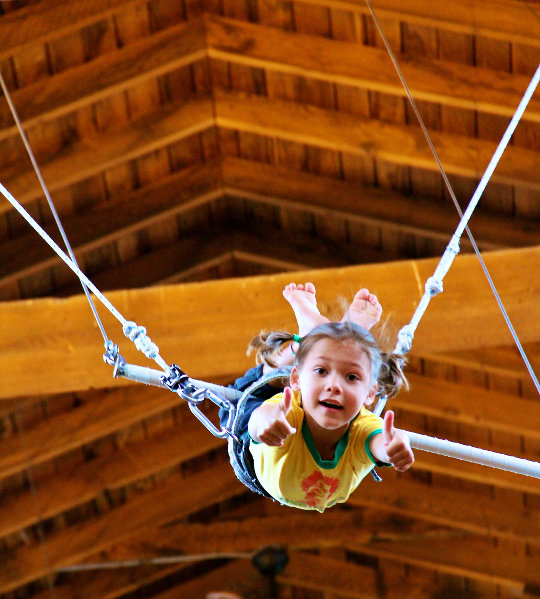 High Flying Trapeze
From absolute beginner to aspiring circus professional, we offer Flying Trapeze classes for all levels. First-time students are welcomed into the fold and inducted into the world of flying trapeze through our Ground School, a 20-30 minute introduction to the rig, take-off techniques, flight, their first trick, and their dismount into the net. During the remaining 90 minutes, students will take turns flying through the air on our full-sized trapeze rig, practicing the knee-hang trick, and if they are ready by the end of class, even 'going for the catch' with one of our experienced instructors. As students advance and gain confidence (which is generally by the end of their first class), we introduce new tricks that develop spatial awareness. Returning students build their repertoire of tricks, learn to properly and powerfully swing, work 'in hands' with the catcher and return back to the bar, eventually remounting the board.
Prerequisites: We encourage students of all athletic (or not!) backgrounds and abilities to give it a try. It requires much less strength and flexibility than you can imagine to have a fun and successful first class! Students must be 6 years or older and under 250 pounds to fly. Beginners are welcome to all classes, excluding "Frequent Flyer" and "Tricks & Locks" classes.
*Please note: any child under the age of 18 taking a class with us must have the waiver and registration forms filled out and signed by their parent or guardian. You may find these forms on our website under FAQ to print off beforehand if the parent/guardian will not be present at the time of the class.
Flying Trapeze Class Schedule
Book a Flying Trapeze Class
---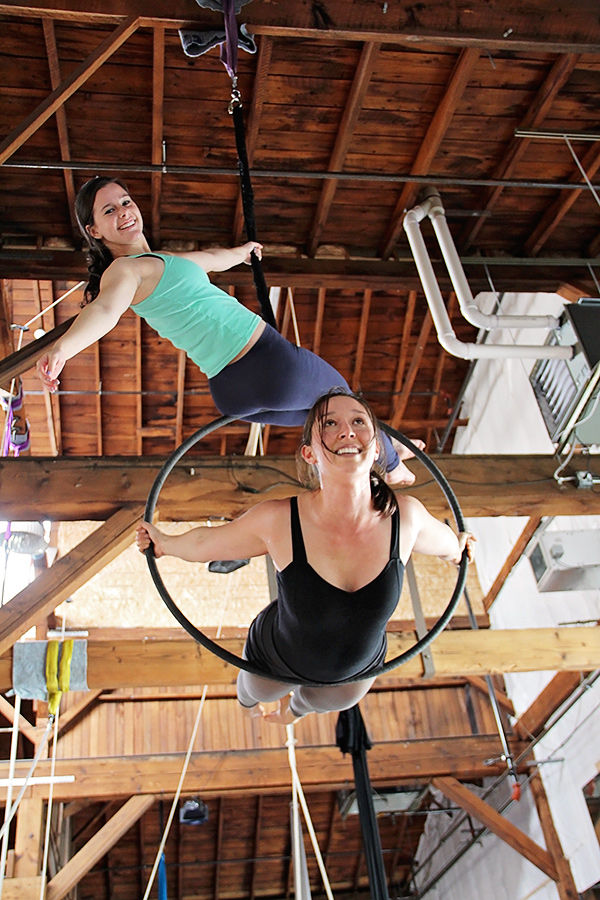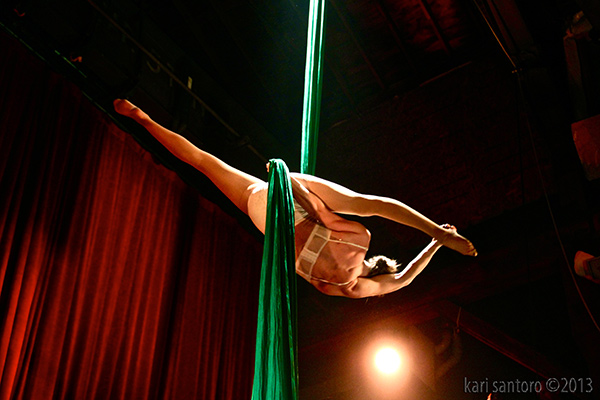 Aerial Arts
Find your center of gravity in our acrobalance class, or learn to swiftly and gracefully climb the silks!  From hoop to dance pole, we've got many options for you to try something new, or master your existing skills.
Aerial Class Schedule
Book an Aerial Class
---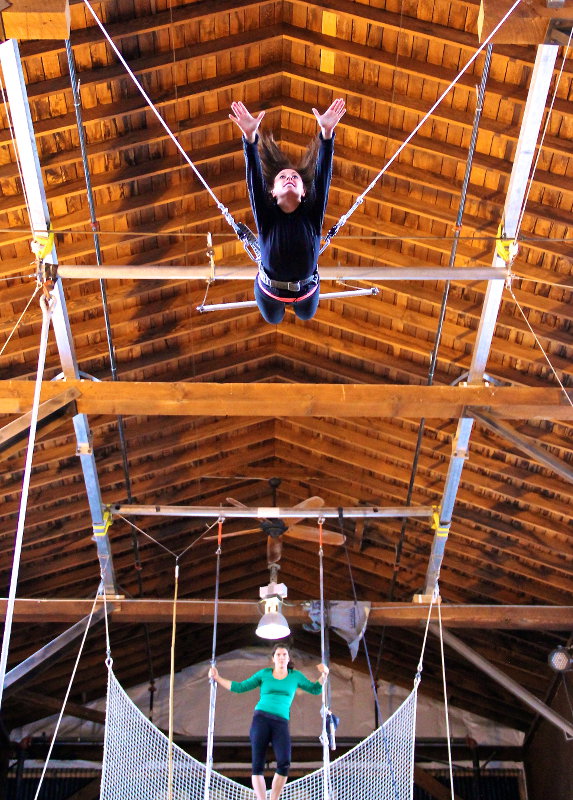 Date Night
Need a twist on the usual dinner and a movie? Searching for a fun way to rekindle the love? Join us on Friday evenings for Date Night at Emerald City Trapeze! Book in advance to reserve your space!
Date Night
Fridays at 8pm
Need a twist on the usual dinner and a movie? Throw in an Acrobatics class followed by some Flying Trapeze and take your relationship to a whole new level! No experience is necessary!
In the first part of the evening, couples learn acrobatic maneuvers that are wholly supported by each other's hands, arms, legs and feet. And don't be surprised when you end up in a compromising position. It's kinda like Twister, for adults. Your instructor will cover the basic building blocks necessary to develop skills in partner balance/acro yoga. Through a variety of postures, instructors will focus on the efficient use of the body, resulting in strength conditioning and increased flexibility. Not to mention a variety of moves to practice (spice up) at home!
The second part of the evening involves Flying Trapeze! You will learn to fly through the air with the greatest of ease! In trapeze ground school, you'll learn the basics of what it takes to safely climb the ladder, grab the bar (take a breath) and take the plunge. Let go of your inhibitions and trust that your date will hold the camera steady! This is your chance to fly!
Pre-requisites: No experience necessary! Must be 18 years or older and under 250 pounds
Rate: $99 per couple
---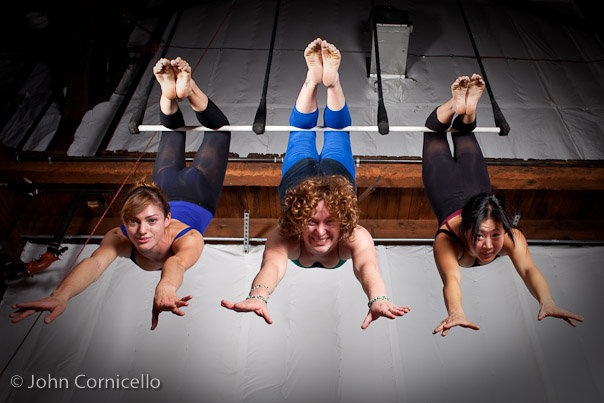 Shakedown
We offer a wide variety of Shakedown classes to help get your body into the best shape possible.
Book a Shakedown Class
Cirque Strength and Movement
Want to get in "CirqueShape"? Want to improve your overall fitness? Need to take your circus training up a notch? Open to all fitness levels, first timers and circus junkies alike, this class is designed to teach the fundamental principles for a wide range of circus disciplines. While improving your strength, power, endurance, flexibility and wellness, this well-rounded circus workout will get your body strong and fit to take your training, from wherever you may be, to the next level.
No experience necessary! Be ready to sweat! Please bring water and a towel.
*Can be treated as a strength workout or warm-up for your already scheduled flying trapeze or circus class.
Pre-requisite: Must be 12 years or older
Rate: $25
Strength and Flexibility 
It is all about synergy! When your strength and flexibility are matched you are able to move with more power and fluidity. In this 2 hour class we will work on the ground and in the air in order to increase your range of motion and power within that motion.
No pre-requisites
Pre-requisite: Must be 12 years or older
Rate: $30
Get your splits to the floor! This class will help aerialists stretch out their huge muscles! We will mainly work on splits, back and shoulder flexibility with a focus on strengthening and lengthening the muscles in order to stretch in a safe way. Many of the stretches will be assisted so be prepared to be pushed deep into your flexibility.
Rate: $25
Book Now!
---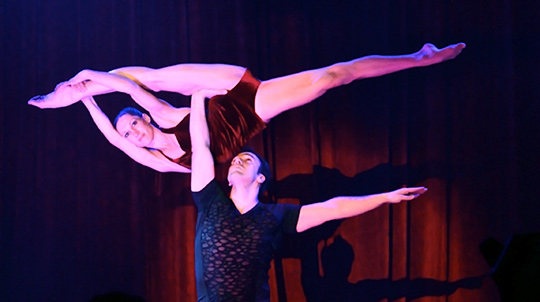 Acrobatics
Acrobatics have been around for centuries; the word is derived from the Greek words akron and bainein (which translate literally to "walking on tiptoe"). Today, acrobatics can take many forms, including juggling, tightrope, tumbling and contortion.
Acrobatic and Circus Class Schedules
Book an Acrobatic or Circus Class
---
Pole Dancing Classes
You will learn how to how to fluidly transition in between movements, execute a set of beginner pole moves with grace, and prepare your body with exercises that will help you progress to more advanced tricks quickly. Prepare to have fun, sweat, and challenge yourself.
Pole Dance Class Schedule
Book a Pole Dancing Class
---
Private Classes
Are you looking for a private experience? We welcome students of all ages, backgrounds, and abilities to schedule private lessons with our experienced and talented instructors.
Flying Trapeze Private Classes: Our instructors will take you to the next level. With personalized instruction, our private classes are a great way to learn flying trapeze or quickly improve your skills! All private classes are booked outside of regular class time.
Small Private Class –

no

catching

1 or 2 people
$100 / hour

Small Private Class –

with

catching 

1 or 2 people
$130 / hour

Group Private Class

Includes 8 flyers (additional flyers $50 per person, max 12)
2 hours of private instruction
Perfect for families or small groups
$450
Aerial Private Classes: Ready to try something new? With personalized aerial instruction, our private classes are a great way to learn or quickly improve your skills! All private classes are booked outside of regular class time.
Small Private Class 

1 person
$70 / hour or $100 / 90 minutes
For group rates and party packages, please visit our Birthday Parties and Small Groups page!
To schedule, or for more information, contact us at info@emeraldcitytrapeze.com or call (206) 906-9442.