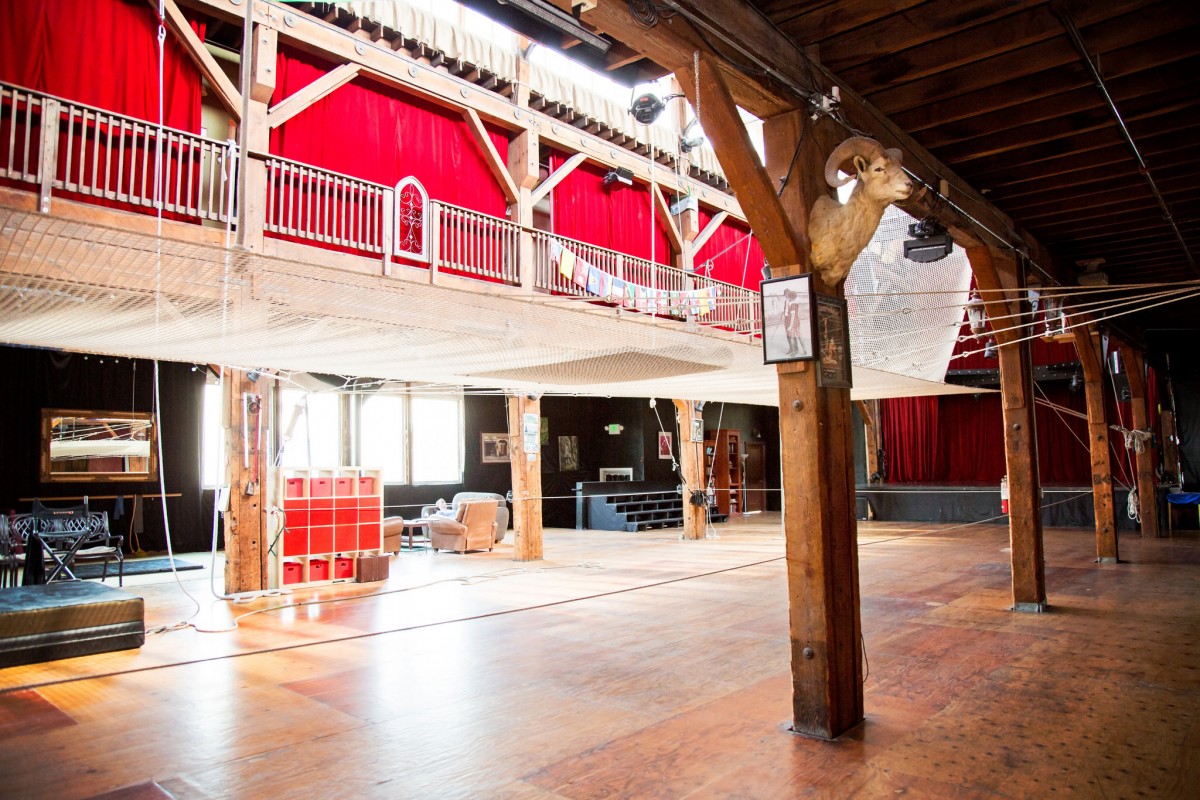 Email us below for more information!
---
Book your party, event, or wedding with us!
Planning your special event? We host weddings, parties, product launches, special events, and fundraisers. Our indoor space features vaulted ceilings, rough-hewn wood beam construction, and industrial accents. Dine under the net or dazzle your guests with a professional Flying Trapeze Show!  View pricing information, galleries, and more!
Questions about classes? Call the studio!
2702 6th Ave South
Seattle, WA 98134
Open 9:30am – 9:30pm, 7 days a week

Only One Block From the SODO Link Station!
Free parking available
 Closed on Christmas Day
Media Inquiries – Print, TV, and Online
Charities – Auctions and Donations
Please view our LIFT Program Page to learn more about Emerald City Trapeze's community outreach. Learn more!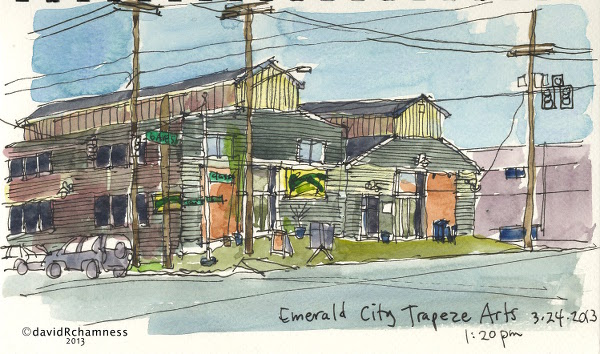 Gary Kirkland, "Jefe"
~ Owner
Gary, a Seattle native, was introduced to flying trapeze while on vacation in 2009. He founded Emerald City Trapeze a year later with the support and assistance of many people, above and beyond the call of sanity. Like Blanche Dubois, he has always depended upon the kindness of strangers.
He is left handed and prone to being forgetful.
Kari Kirkland, "Bruiser"
~ Owner & General Manager ~
Kari was born into a family of traveling musicians. This sculpted her into a highly adaptable, fearless, yet fairly tactful human who is good with strangers, doesn't mind sleeping in a guitar case, and is likely to quote Joni Mitchell lyrics when faced with a challenge.
A dual citizen (Canada/USA), Kari has lived and worked all over the world, and comes to the ECTA team with a strong background in management consulting, corporate communications, and human resources.
Kari makes a mean roast chicken, is an active Ironman triathlete, and loves sunshine and ice cream (not necessarily in that order).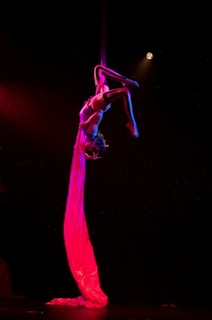 Jenny Penny
Jenny Penny is a jack of all trades; Aerialist, Acrobalancer, Fire performer, Circus entertainer, Burlesque dancer and Sideshow artist.  Starting with ballet at age 3, trying many different schools of dance, she eventually fell in love with the circus.  She has been performing in Seattle, across the US, and around the globe since 2004. She was a founding member, lead performer, and mama of Seattle's own dark circus, Pure Cirkus.  Over the past few years she's been teaching acrobalancing, aerial, and fire arts.  She now teaches out of Emerald City Trapeze, offering public and private lessons. Her talents have been featured at venues such as Neumo's, the Triple Door and El Gaucho. She strives for circus beauty, but is a carnie at heart.
Meredith Starnes
~ Aerial Director
Meredith is a classically trained mover, shaker, and dynamite in a neat little Swarovski-encrusted package. Her formidable dance background includes a BFA in Performance and Choreography from UNC – Greensboro, and North Carolina School of the Arts. Her circus training is a decade and counting, and can be found collaborating with Madame Rex specializing in dynamic aerial hoop work and and an uncanny ability to costume from scratch. A celebrated study of character and a gifted improviser, her eagle eye and penchant for unearthing what is compelling in any piece are prized by her audience and her fellow aerialists.
Dr. Keira "Abdominus" Moore
~ Flying Trapeze
Keira is rumored to be the world's smallest out-of-lines catcher. Often wearing the pants in any given relationship, one can find Dr. Abdominus drowning in cereal, complaining about her age, or safely asleep in a zoo exhibit. Her special talents include having better abs than Joe Summers, yelling in a pirate accent, and avoiding squats at all costs. Keira has been doing flying trapeze for longer than Joe Summers, and wants you all to know that she loves you very much.
Coleton Stinson
~ Cyr Wheel
Due to a botched Valentine's Day date, Coleton discovered his true love at Emerald City Trapeze Arts' Nocturnal performance. Beginning in March 2015 and having no prior gymnastics experience, he focused diligently on Cyr Wheel while getting a little taste of different aerial apparatuses and even dabbling a little in acrobalance; however, Coleton's calling was the Cyr Wheel. He began instructing in June 2015 and continues to obsess over Cyr wheel to this day.
Nick Glomb
~ Flying Trapeze
Nick Glomb has been working in circus for almost ten years. He's done it all, from teaching circus arts to children at summer camps to working with both children and adults at resorts around the world. He's been in Seattle for the past year and loves it!
Matt Swayngim
~ Flying Trapeze
Matt The Swayngim. In west Philadelphia born and raised…. Catcher by day, competitive eater by night, both a performance sport. When he is not exhibiting his athletic prowess, one can find M.T Swayngim wearing a variety of costumes, collecting useless junk and making up secret hand shakes with kids. His favorite foods are calcium carbonate, peanut butter cheese and watermelon. Basically, the cool thing about him is that his special talents include exceptionally long and verbose explanations for everything, throwing back end turkeys, being able to read and being tall.
Joe "Squats" Summers
~ Flying Trapeze
Joe has voted himself "Best Legs on the Fly Team", and he's proud of it. People all over Seattle adore him for his humor, and he is undefeated in the game 'hide and seek'. Joe's favorite food is hot cheese soup. Joe is also very good at lip-synching, and he will challenge you to a dance-off at a moment's notice.
Sarah Brownstein
~ Flying Trapeze
Sarah's mom was eating pecan pie and listening to Carmina Burana when her water bag broke and out came Sarah.
Three experiences primed her for flying trapeze: she was a national rhythmic gymnastics competitor growing up, she was the Step Aerobics Champion of the Pichincha region of Ecuador in 1999, and she lived off the grid amongst monkeys for a few years in Costa Rica.
Sarah started training and teaching flying trapeze in Austin, Texas, and has been happy in life ever since. She dances salsa, has two cats, and can make a clover with her tongue.
Erica Reeves
~ Flying Trapeze
Erica has been trying to defy gravity since she was about 5 years old when she climbed a fence and jumped off thinking she could fly. It may have taken two black eyes and many years to find out how to fly in a more constructive way. While living in Washington, DC, Erica discovered not only her passion for flying but also for the sense of community that circus offers. In 2014, Erica moved to Seattle and joined the staff at Emerald City Trapeze as an instructor and administrator. Here, she has discovered her love of teaching and now has the privilege on a daily basis to introduce and foster her passion for flying in others.
A Seattle native, Erica grew up playing a variety of sports including basketball, softball, volleyball, etc. As an adult, her love of heights has taken her around the world rock climbing, skydiving and bungee jumping. Erica holds a PhD in genetics and spends her non-circus time working on developing new potential medicines for rare pediatric diseases.
Julie Istvan
~ Aerial Arts
Julie feels at her best when she's hanging upside down. She's been suspending herself ever since encountering the art of aerial silks on a yoga retreat in Costa Rica. Since then, she's made a point of spider-climbing toward the nearest high ceiling on long sashes of cloth for roughly five hours a day. Julie started Aerial Fabric 5.5 years ago at ECTA. After taking one class, she knew that she wanted to run away with the circus! Julie also loves Lyra and Flying Trapeze.
Meg Drouhard
~ Pole Dance
Meg has been poling since 2013. She had no prior background in dance or gymnastics, but she immediately fell in love with the challenge and expressivity of pole dance.  Meg loves the support and encouragement that pervades the pole community, and she is excited to help students discover and explore their own unique styles.  In addition to her pole exploits, Meg is recognized as a proficient cat toy thrower and board game rule monitor. When not otherwise occupied, Meg can be found in the Human-Centered Data Science Lab at the University of Washington, struggling through her PhD research.
Rachel Strickland, "Madame Rex"
~ Aerial Arts
Classically trained in ballet since the age of three, Rachel is a dancer turned aerialist and an innovative variety performer. She began her study of circus arts in 2007, developing a unique style and approach to aerial choreography, and has performed and taught aerial technique around the world.
She is founder and artistic director of Madame Rex, a contemporary circus and aerial dance collaboration. Rachel's cross training allows her to deliver a wide range of roles, from lithe and ethereal to earthy and visceral. Rich, extravagant movements and strong, multifaceted technique are her trademarks. And a touch of creepy aesthetic…Performing extensively as a soloist internationally and in several national tours, Rachel specializes in creating aerial hoop choreography and the practice of telling stories.
Tiffany Rivera
~ Pole Dance Instructor
Tiffany has been pole dancing since April 2016 and immediately fell in love with the community. She has a prior background in dance, collegiate cheer, and does Mongolian contortion which is her second love.
When not pole dancing you can find her running, studying for the MCAT, or having onesie movie night. She loves all things cats, wine, and science.
Jedidiah Roe
~ Operations Manager
The details of my life are quite inconsequential … Very well, where do I begin? My father was a relentlessly self-improving boulangerie owner from Belgium with low-grade narcolepsy and a penchant for buggery. My mother was a 15-year-old French prostitute named Chloé with webbed feet. My father would womanize; he would drink; he would make outrageous claims like he invented the question mark. Sometimes, he would accuse chestnuts of being lazy. The sort of general malaise that only the genius possess and the insane lament … My childhood was typical: summers in Rangoon … luge lessons … In the spring, we'd make meat helmets … When I was insolent I was placed in a burlap bag and beaten with reeds — pretty standard, really. At the age of 12, I received my first scribe. At the age of 14, a Zoroastrian named Vilmer ritualistically shaved my testicles. There really is nothing like a shorn scrotum — it's breathtaking … I suggest you try.
Jake Hinga
~ Trampoline, Tricking, and Trampoline Wall Instructor
Jake Hinga was just your everyday jock playing basketball and football in Michigan until he graduated high school and randomly fell in love with flipping and other acrobatic movements. Fast forward 5.5 years he has since moved to Seattle and is now a trampoline and trampwall Instructor here at Emerald City Trapeze Arts. He has coached everything from trampoline and tumbling, women's and men's gymnastics, and tumbling for cheerleaders. Jake is a huge mega-nerd who loves to learn just about anything movement related, reads fantasy novels, watches anime, has a degree in exercise science, and dances. He genuinely loves coaching and cares about all his students.
Bre Perez
~ Flying Trapeze Instructor
Bre "Lawetlat'la" Perez is a total babe who started her Circus journey at club med sandpiper. She rode through every state on the back of a motorcycle with "you-know-who". This adventure brought her back to the west coast, closer to home. Her interests include drawing vegetables, trolling animal photos on the internet and not letting Tyler tell her how to live her life. When she has complete free time, she will teach crickets rola-bola in the evening. She is either allergic to chicken or powered by chicken… no one can tell.
Tyler Barnett
~ Flying Trapeze Instructor
Tyler "captain Janky leg" Barnett began Circus in the sunshine state where he learned how to do catch locks without a net. Whilst in Florida, he single handedly saved a litter of seal pups from being clubbed. His interests include making macaroni art, researching historical classic type writers and telling bre how to live her life. He also has never tried human cheese.
Ps. He is also the Florida pole fitness champion of 2014.
Alicia Graf
~ Wire Walking Instructor
Previously a professional figure skater, Alicia began a new journey of wire walking, drawn by the feeling of walking on air. With years of competition behind her, she brings a strong sense of discipline and creativity to her training and teaching at ECTA.
Alicia's spends her time off the wire as a specialist coach, business owner, and all-around scrapper. Whether working backstage, off camera, on the ice or wire, Alicia is a performer and artist at heart with a sense of humor drier than an English muffin.
She also hates writing her own biography more than doing her own taxes (which she doesn't actually do, but still complains about at length).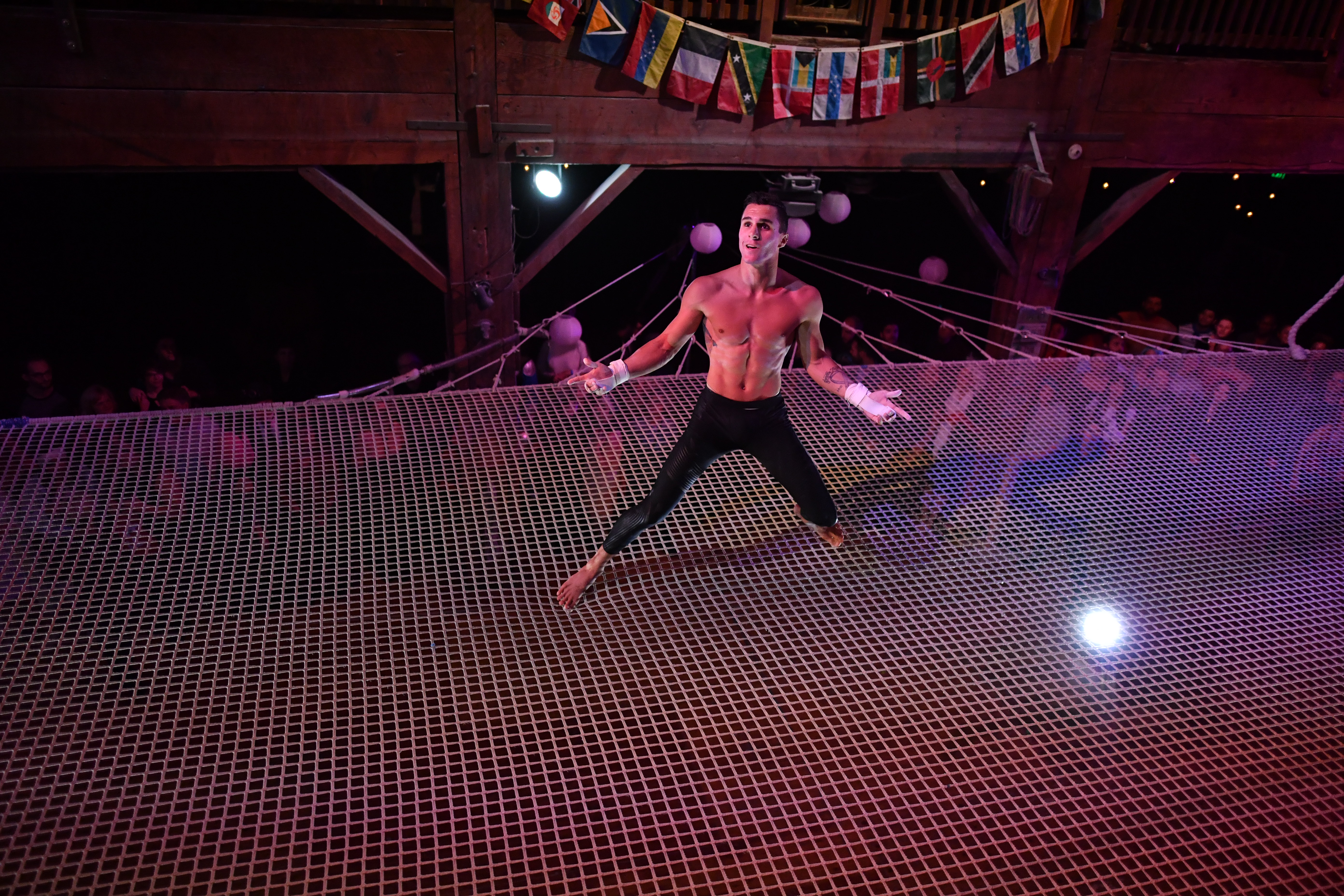 Jason English
~ Flying Trapeze Instructor
My name's Jason, I'm from Detroit Michigan. I started doing trapeze at the ripe old age of 10 and at 18  I ran away from the real world to chase my dreams of being in the circus! I've since performed flying trapeze around the world as both a catcher and a flyer!
Ethan Hechanova
~ Intro to Silks, Intro to Aerial, Strength and Flexibility Instructor
Ethan grew up in Las Vegas, Nevada where he cultivated his passion for the performing arts. After high school, he moved to Reno, NV for college where he discovered aerial silks and started training endlessly. In May of 2017 he came out to Seattle and started training at ECTA. He fell in love with the studio and the instruction and very quickly moved to Seattle permanently. You will often find Ethan on aerial silks or swinging around in a flying trapeze class!
Meredith Holladay
~ Pole Dance Instructor
Meredith's love of dance and performing started at the early age 4 yrs through ballet and later evolved through swing and salsa social dances. She stumbled upon pole dancing several years ago, thanks to a Groupon addiction, and has been training in Seattle studios including Divine Movement and Pole Fitness Seattle ever since.
Meredith now teaches choreography and introductory classes with the pole program at Emerald City Trapeze. Drawing from her movement experience in salsa, blues and now Pole, she aims to inspire her students to connect to their bodies and find their own expression of movement through this powerful dance.
When not in the studio training or teaching, Meredith practices bodywork as a massage therapist on Capitol Hill, enjoys rock climbing and attempts to find the flattest bikeable routes throughout seattle.
Vinnie Valentien
~ Pole Dance Instructor
Vinnie Valentien is a full-time dinosaur, part-time pole dancer, and (periodically) a suspension hook performer. When she's not terrorizing small villages, she can be found creating art in many forms. Before finding her love for pole, Vinnie trained in Ballet, Acrobatics, Aerial Silks, and Lyria. She discovered pole four years ago, and she has been at Emerald City Trapeze for three of those marvelous years. When she's not performing she loves to take pictures, write, dance, and teach.
Gil Bugarin
~ Pole Dance Instructor
Gil joins Emerald City Trapeze after spending the last four years training in Los Angeles. Gil found pole through Groupon and figured, "Hey, why not." Since then he has fallen in love with the creative expression and physical challenge that pole offers. Gil went competes internationally and performed in the LA nightlife. When Gil's not dancing, you can find him binge watching the latest Netflix craze!
---
We are proud to provide our schools with instructors and staff from all over the globe, with diverse backgrounds, talents, and teaching styles. If you're interested in joining our team, please contact Kari at kari@emeraldcitytrapeze.com!