Fly it Forward For Amazing Prizes
Kicking off November 4, refer a first-time flier or new aerialist to Emerald City Trapeze Arts. They get a discounted class, and you can get entered to win a drawing with some very cool prizes.
Rules
 When you give a Fly it Forward card to a first-time student, they use the code on the card to receive $10 off a Flying Trapeze class and $5 off any Aerial/Acrobatics class. When they redeem their class by November 30th and bring the card with them to the studio with your name written on it, you're entered to win.
There's no limit to how many Fly it Forward cards you can give out (available at the front desk).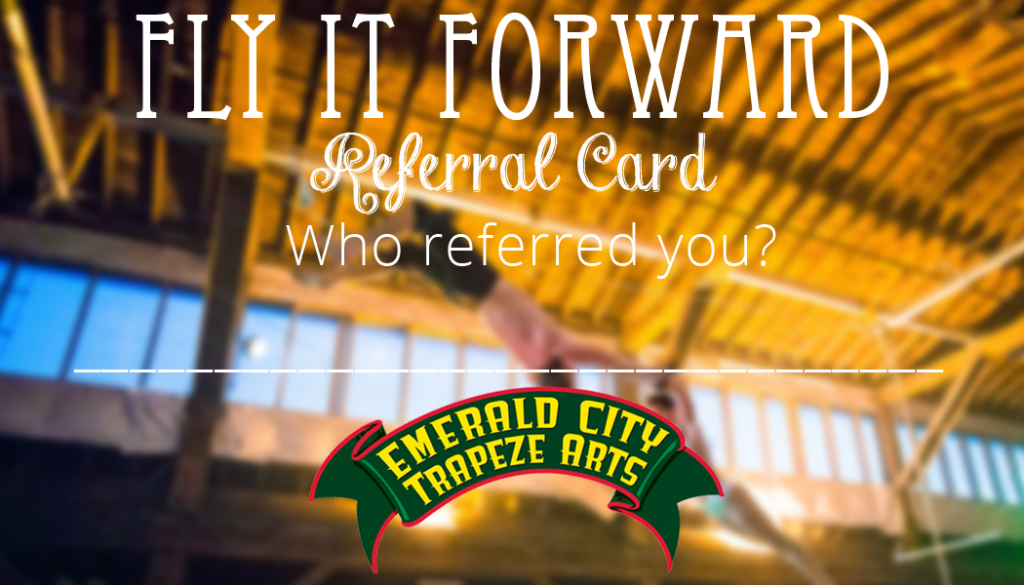 What Can You Win?
DRAWING is DECEMBER 1, 2014!
First prize is awarded for the most referrals in each category – Flying Trapeze and Aerial/Acrobatics – the more referrals you make, the better your odds of winning (Cards will be checked for accuracy. Only cards entered that have been redeemed by first-time students will be counted.)! Second and Third prizes will be drawn randomly.
Flying Trapeze Prizes
1st – 20-class Frequent Flyer Card
2nd – 10-class Frequent Flyer Card
3rd – 5-class Frequent Flyer Card
Aerial/Acrobatics Prizes
1st -20-class Frequent Aerial Card
2nd – 10-class Frequent Aerial Card
3rd – 10-class Frequent Shakedown Card