Emerald City Trapeze celebrated at this year's Seattle Pride Parade, on June 29th, by cruising down the Seattle streets in the fabulous Emerald City Trapeze car, complete with trapeze and aerial artists.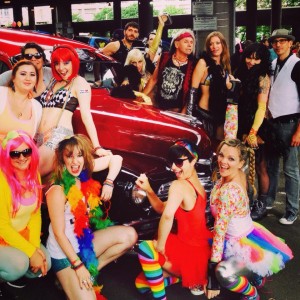 According to Seattle Pride 2014, "Celebrating 40 Years of Seattle Pride, this year's parade promises to be the best yet, with a long list of prominent community members and organizations participating in this year's celebration. This year's parade theme, Generations of Pride, aims to celebrate the history of the Northwest's LGBT rights movement and advance the ongoing progress the LGBT community has made since first coming out in 1974, the year of the inaugural Seattle Pride celebration."
Emerald City Trapeze took to the streets in circus socks, roller skates, tutus, and all things rainbow. Along with their sweet ride, the Trapeze Car, they were ready to take on Seattle. Since the beginning, the Aerial Drome has been a place of total acceptance. When you enter into the sacred space of Emerald City Trapeze, regardless of your age, sexuality, nationality, or experience level, you are family. Each new member is accepted into the class with open arms, and students are encouraged to simply be themselves, support fellow classmates, take risks, and above all – smile!
If you are looking for a new hobby, conversation starter, or sneaky way to get a six pack, Emerald City Trapeze has just the class for you. With classes ranging from Flying Trapeze to Bungee and Trampoline, there is something for everyone. "We love seeing entire families join the circus for the day and learn how to do the flying trapeze. It's easily enough that kids can pick it up in just a few hours, and they seem to love it!"
If you are looking to try out Trapeze for the very first time: 
Code: Pride2014
Enjoy 1 class for just $40!
Valid through October 2014
Check out the below gallery to see what it was like at the Seattle Pride Parade!