Introduction to Aerial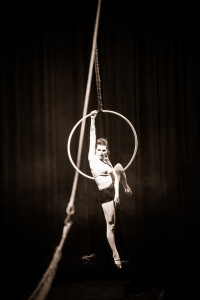 A blend of a physical and creative exercise, cardiovascular endurance and yogic flexibility, aerial is an art that is a challenge for even the most skilled athletes (which is why we all love it!). Dance or no dance background, upper body strength or not – this is the class for you, the curious and striving beginner. We will utilize a variety of apparatus' in this class to diversify your aerial arsenal!  We will explore how your current (or growing!) vocabulary can be applied to a new apparatus, or give you the opportunity to try a new one if you are looking to hone your study.  Class will focus on building strength, cross-training, and clean technique.  Apparatus used may include: Silks, Hoop, Rope, and Static Trapeze. Suitable for all levels!
Pre-requisite: Must be 12 years or older
Rate: $30 per class
Book Now!
Introduction to Silks
Whether you are aspiring to hang like Pink at the Grammy's or simply imrove your strength and grace, Introduction to Silks is a fabulous introduction into the world of aerial arts! In this class, you will learn basic climbs, locks, hangs, inversions and wraps. Class begins and ends with conditioning drills, dance technique, and flexibility training. We learn to move safely, confidently and beautifully on the fabric.
Prerequisite: Must be 12 years or older Rate: $30
Book Now!
Aerial Silks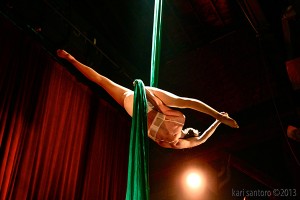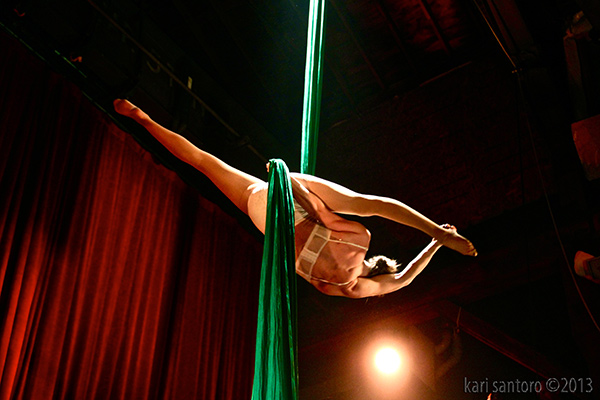 Ready to climb higher and drop farther? Get ready for Aerial Silks! Building on skills learned in Introduction to Silks, students will increase their technical and creative knowledge on the fabric. Students will become more confident with height and inversions as well as learn more intricate wraps and drops.
Prerequisite: Introduction to Silks or Instructor Approval
Rate: $30
Book Now!