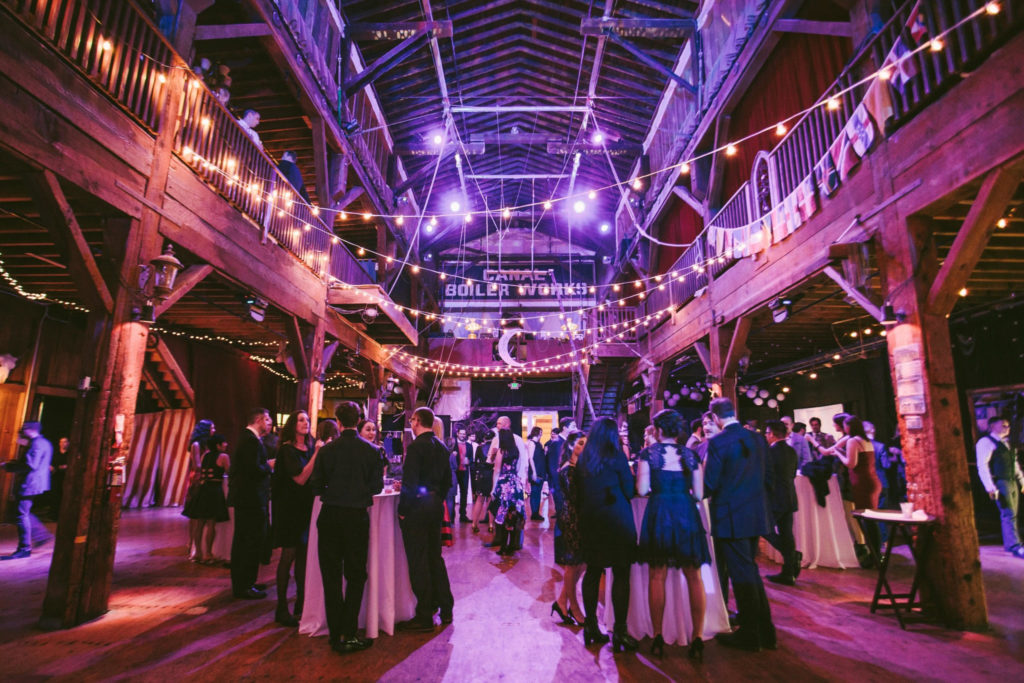 Blue Ribbon Cooking and Emerald City Trapeze Combine Circus Arts and Creative Culinary Experiences with New Exclusive Partnership
August 14, 2019 — Magic is in the air—literally—as Blue Ribbon Cooking and Emerald City Trapeze announced today an exclusive partnership which will bring together world-class cirque and innovative, award winning menus for endless event possibilities. 
Shawn Hammer, Emerald City Trapeze owner, said "The partnership positions our venue to be one of the only spaces in the Pacific Northwest that can offer clients an unforgettable experience combining jaw-dropping entertainment and the region's finest cuisine, both in a gorgeous historic venue." 
Housed in the former Canal Boiler Works building in SODO, Emerald City Trapeze boasts 20,000 square feet of rustic charm, from its rough-hewn wood beams to its funky decor. The combination of natural ambiance and capacity is unmatched in Seattle, making the space a favorite for weddings, special occasions and corporate events—as well as making it a perfect canvas for Blue Ribbon's all-inclusive event planning.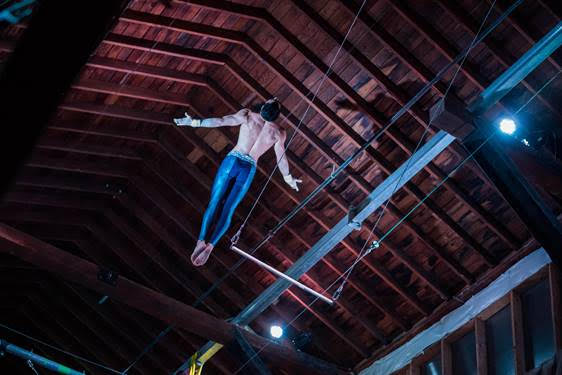 Blue Ribbon Cooking has been at the helm of Seattle food and entertainment since 1995, exercising its proven expertise in the service and event industries through a variety of hands-on cooking classes, private and corporate catering, and curating the best end-to-end event experiences possible. "We help our clients find the perfect venue, select the most amazing menu, design and execute the visual styling and decor for the event, and take care of all day-of staffing and event planning," said Blue Ribbon's owner, Vanessa Smith. 
For Smith, the decision to partner with Emerald City Trapeze was easy. "The trends of the corporate world are changing and guests want more from their company's events," she said. In addition to bringing the zany and spectacular to private celebrations, businesses can infuse their meetings with the venue's grandeur and whimsy, and then shake things up with happy hour cocktails, appetizers and flying trapeze lessons for the entire team.
Uniquely, in addition to providing companies a one-of-a-kind space at which to host traditional gatherings, Blue Ribbon Cooking and Emerald City Trapeze will also be combining forces to offer collaborative culinary and circus team building events. Guests will have the opportunity to take part in a multitude of hands-on experiences, from creating artistic edible delights to learning aerial arts from the pros. 
For a taste of the partnership, curious minds can experience the companies' combined experiential expertise at upcoming events, including a free flying trapeze and aerial "Protege Show" on September 21, and "Carnevolar: Halloween Circus Spectacular and Costume Dance Party" on October 24 – 26. For those looking at booking events at the venue, 2019 holiday dates and 2020 slots are filling quickly, and interested parties can reach out to the Emerald City Trapeze team for a personalized tour and consultation.
About Blue Ribbon Cooking: 
Since 1995, Blue Ribbon's motive has been to bring the family back to the dining room table to enjoy homemade meals together. The company hosts a vast variety of hands-on cooking classes and events, as well as offers catering that specializes in elegant catered events for both private and corporate clients. Blue Ribbon Cooking has become most known for its bountiful family-style catering that is regularly shared at weddings and other events throughout the Puget Sound area.
About Emerald City Trapeze: 
Emerald City Trapeze, located in Seattle, is the West Coast's premier destination for Flying Trapeze, Aerial Arts, and Circus classes. Just south of downtown Seattle, Emerald City Trapeze is located in the former Canal Boiler Works building, which now houses a full-sized flying trapeze rig, a professional theatrical performance stage, and a stunning aerial studio. In addition to offering the widest range of circus classes in Seattle, Emerald City Trapeze is proud to be one of Seattle's most unique event venues, hosting weddings, corporate events, special occasions, and birthday parties.