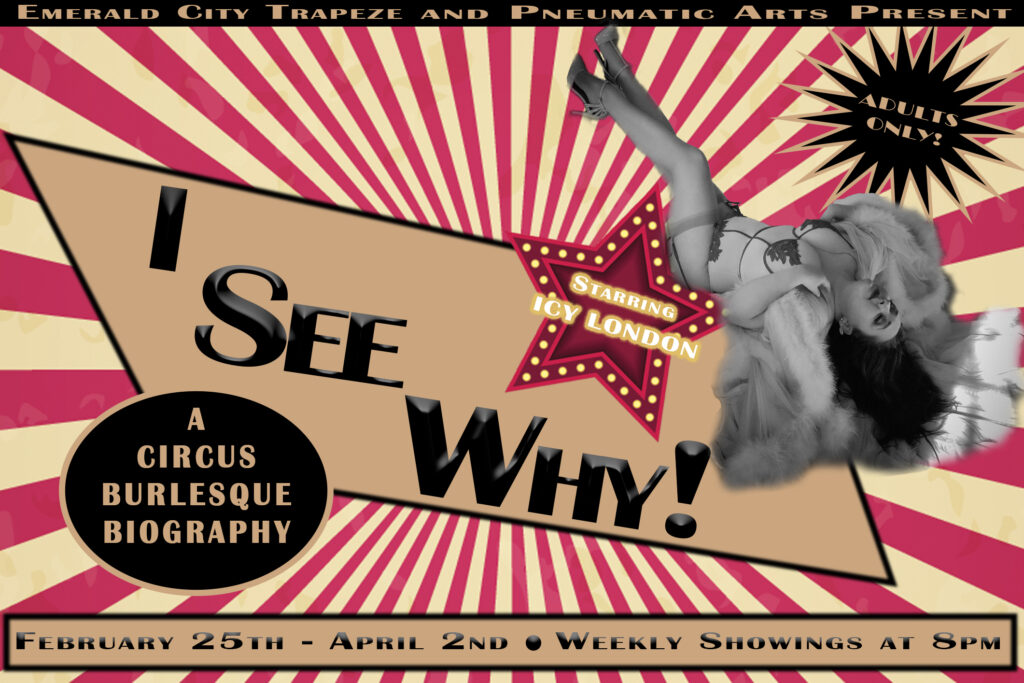 Listen to our advertisement!
We are so excited for our advertisement on iHeartRadio (KJAQ and 96.5 JACK-FM) for our upcoming show, "I See Why!"
iHeartMedia and all of its more than 850 broadcast radio stations are dedicated to inspiring and creating positive change that improves the lives of others. The company's community programs are built on the idea that through public awareness and education we can drive attention and action that directly addresses today's most pressing issues. In 2017, iHeart supported thousands of local and nonprofit organizations nationwide and raised hundreds of millions of dollars for critical issues both in the United States and globally.
A Live Circus and Burlesque Performance – Featuring World-Class Flying Trapeze, Aerial, and Burlesque
Fridays and Saturdays | February 25, 2022 to April 2, 2022 | Doors open at 7pm & Show starts at 8pm

Seattle, Washington 
Are you ready for a sizzling evening of world-class Flying Trapeze, Aerial, and Circus with a spicy twist of burlesque? "I See Why | A Circus Burlesque Biography" unveils the story of a woman who is fed up with the doldrums of life and embraces a fierce, fiery, and fabulous self. This tantalizing and sultry show, located in the heart of Seattle at Emerald City Trapeze Arts, follows the transformation of Icy London, a sensational burlesque artist. Sip on delicious cocktails and watch as our artists dazzle you with their jaw-dropping acts during this adults-only circus performance. It will have you clutching your pearls, clenching your cheeks and begging for more! 21+ only!
Executive Producer from Emerald City Trapeze Arts, Shawn Hammer, in partnership with Producers from Pneumatic Arts, Jordan Tribble and Blair Aued, and Artistic Director, Samantha Buckmier.
A Circus Burlesque Biography about and featuring Icy London.
Event is 21+ only | Proof of Vaccination & Medical-Grade Masks Required | ID required at entry