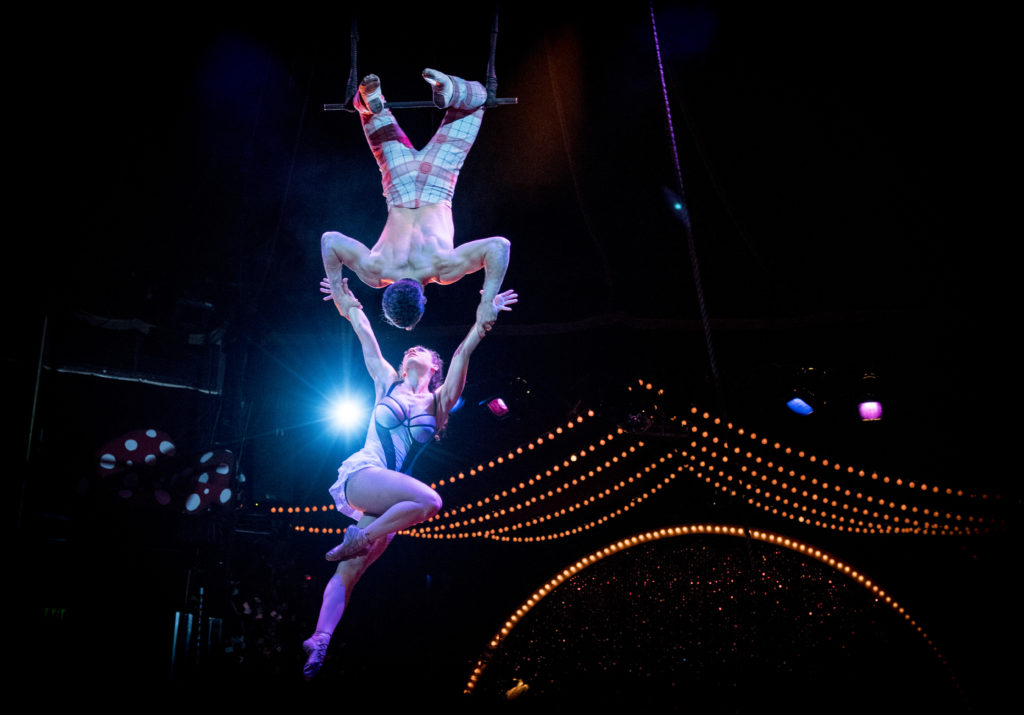 ABOUT DUO MADRONA:
Ben Wendel and Rachel Nehmer met as biology students at Haverford College. After a successful stint as lab partners, the couple decided to test out their chemistry on a trapeze! Duo Madrona created their duet at Seattle's School of Acrobatics and New Circus Arts (SANCA), and made their debut at the 2006 Moisture Festival. In the years following they have logged thousands of performances across the US and Europe. Highlights include the 29th Festival Mondial du Cirque de Demain in Paris, Circus Flora, The Big E, Tigerpalast Variete, Palazzo, Circus Monti, Circus Syzygy, Flynn Creek Circus and an appearance on French television with Patrick Sebastien's "Le Plus Grand Cabaret du Monde". Ben and Rachel have been regular performers at Teatro Zinzanni for the past decade, bringing to life a wide variety of memorable characters in addition to closing the show with their powerful and romantic trapeze act. In real life, the duo is based in Seattle and are proud parents of two children, Dylan and June.
DUO TRAPEZE
Come learn duo trapeze technique from Duo Madrona, a professional duo that has been performing together for over a decade. Over the course of 5 weeks, we will start with the fundamental elements of partner trapeze: communication, grip, and hanging alignment for both base and flyer. Then, we'll dive into counter-tempo technique for momentum-based acrobatics. We'll cover the body positions, drills and progressions for various mounts, poses, and release tricks, and use lines and hand spots to try them out in a safe and fun environment.
Pre-requisites: Open gym-approved, or by instructor approval. Max 8 students.
Fridays 7:30pm – 9:30pm
Sundays 7:30pm – 9:30pm
5-Week Session Start Dates: May 17th, June 21st, and August 2nd
Rate: $450 per 5-session workshop booked as a complete series (No drop-ins or FA cards) | Min. of 4 students to run
TRAPEZE CONDITIONING
Are you looking to get stronger in a targeted way for your aerial work? To unlock a new trick, recover from/avoid injury, push past a plateau, or just supplement your training regimen? Come check out this intense 90-minute, whole-body workout with emphasis on alignment, shoulder health, core strength, and active flexibility. You'll build the strength you need to level up your trapeze (or other aerial) skills.
Pre-requisites: Ability to hang (by hands and knees). Max 8 students.
5-Week Session Start Dates: May 17th, June 21st, and August 2nd
Rate: $150 per 5-session series booked as a complete series (No drop-ins or FA cards) | Min. of 4 students to run
*Photo credit:Michael Doucett | Video credit: VMG